As much as I close my eyes and imagine myself year-round sitting poolside in 80-degree weather, the fact of the matter is that Fort Wayne is in the Midwest. And while the sunshine and palm trees are a nice vacation, we in the Midwest love all four of our seasons.
[[endteaser]]
I spend a few months surrounded by gorgeous blossoming tulips and bees and butterflies and bright colors in the spring and a few months of heat during the summer. I especially enjoy come September when the foliage paints a warm city of reds and yellows and oranges in the sky and on the ground. And then comes what I feel is the most romantic and sentimental time of the year - Winter. That's right. I said it. Lock me up and throw away the key if you're not from the area! How could someone love Winter?
All of my fondest family memories are set with bare trees and a cold, crisp air. But what's the most vivid of them all? Hopping in my dad's 1985 Chevy Silverado and driving around to look at the various holiday lights ablaze in the night. House after house, one "oooooh!" after another "ahhhhh!" we drove around surrounding neighborhoods for hours. No other memory serves my nostalgia better. 
Mind you, I live in Fort Wayne now, but I'm originally from Northwest Indiana. That's where all of these memories were crafted. But now I'm an adult, and I'm paving the road for new memories of my own. I'm so excited that I get to take my reminiscent childhood adventures and combine them with my love for the city I now call home because of the wonderful event that is Fort Wayne's Night of Lights! This night is everything I loved during my childhood about the holidays, wrapped up in a nice little downtown Fort Wayne package with a bow on top! This festive extravaganza will be worth the trip for anyone.
On November 25, grab your coats, family, friends and maybe even some sunglasses and head downtown for the celebration of the season. There will be activities for the entire family (which will be announced here), but if you're me, the activities are just a bonus to the lighting, which in a way is like a welcoming of the season!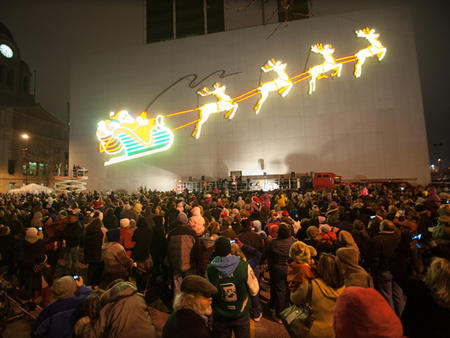 The fun kicks off with the History Center Turret Lighting (located on Barr St.) at 5:15 p.m. And don't miss everyone's favorite at 6:15 p.m., the iconic lighting of PNC's Santa and his Reindeer followed by the Wells Fargo Holiday Display and Indiana Michigan Power Merry Christmas Wreath. Wrap up your evening at Parkview Field for the Night of Lights Fireworks! 
Full Night of Lights Schedule
5:15 p.m. History Center Turret Lighting (Barr Street)
5:30 p.m. University of Saint Francis Robert Goldstine Performing Arts Center (PAC) Wreath Lighting (Berry Street)
5:45 p.m. Aunt Millie's Northern Lights (Pearl Street) 6:00 p.m. Community Center Santa's Workshop display (Main Street)
6:15 p.m. Santa and his Reindeer at PNC with Mayor Tom Henry, Santa and special guests (Main and Berry Streets)
6:45 p.m. Wells Fargo Holiday Display and Indiana Michigan Power Merry Christmas Wreath with a special performance by the Northrop High School Show Choir (I & M Power Center Plaza)
7:15 p.m. Botanical Conservatory & Embassy Theatre Window Lighting (Jefferson Blvd)
7:45 p.m. Parkview Field Fireworks (Jefferson Blvd)
Downtown HolidayFest continues through the end of the year with performances, festivals, art events, Holly Trolley Shopping, and so much more.  
Parking is abundant downtown, so don't let that stop you! Metered and garage parking is free in the evening, so pick a spot anywhere and you're only a short trek from the many festivities happening downtown that night.  
No matter what your weather preferences are, an event like the Night of Lights in Fort Wayne is sure to warm you up (on the inside!) and give you and your family reasons to celebrate while creating new memories and traditions.