After months of construction, parking at Fort Wayne International Airport finally has a face-lift! On October 8th, our new rental car lot was officially open to the public, debuting some new changes to parking at the airport that we hope make it easier for visitors to get around.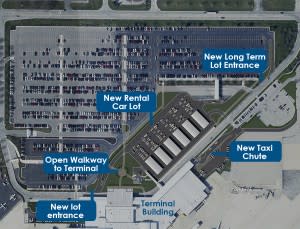 The main goal of our parking construction was to create a new, more guest friendly, space for our rental cars. The old rental car lot was next to the terminal building with all of our rental car tenants lumped together. While this was affective, it wasn't as attractive as we would have liked and also created a little confusion. To alleviate this, and create an attractive space that all of our passengers and guests could take advantage of, it was decided to move our rental car parking lot over in front of the terminal, as well as make improvements to the entrances for parking and walkways leading to the terminal building.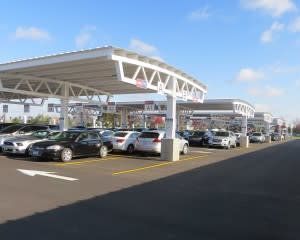 With these new improvements, rental car customers can now enjoy covered parking, clearly lit and marked spaces for each rental car company and a covered walkway up to and from the terminal building. This project also allowed for other improvements to be made to the parking lot. A new lot entrance for our short-term parking is now in front of the terminal building for easier access, and a second long term parking entrance was added toward the end of the terminal drive. The Airport Authority is also currently in the process of turning the old rental car lot into a new taxi shoot - allowing for passengers to grab their luggage at baggage claim and get a taxi much faster and easier than before! This phase of our parking lot construction began on October 6th.
Our hope is that these improvements make your trip to and from FWA even easier and hassle free! The new rental lot, as well as the other new improvements to our parking, are meant to give visitors to Fort Wayne, as well as our frequent passengers and guests,  an even better experience when coming and going from our airport! We hope you always check FWA!