We are excited to announce the opening day of Fort Wayne's newest play area. Going in at Jefferson Pointe Shopping Center, this indoor play area offers over 2,000 square feet of play space, is Fort Wayne themed, and promises to be a destination not to miss! "We're hoping this gives back to the community, and [that it can be a place where] kids can come to learn a little bit about the history of Fort Wayne," says Katrina Newman, Marketing and Business Development Manager for Jefferson Pointe Shopping Center.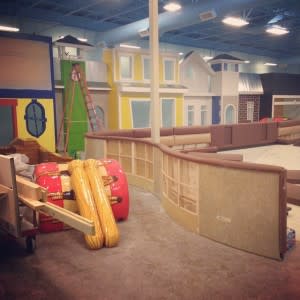 Designed by Play Time, the play area features 14 play elements of varying sizes. While from afar, the play pieces appear to be a hard plastic, once you get up close and feel them, you will find they are really squishy and have some give. As safety is the number one concern, this material antibacterial as well as more kid friendly than your typical play equipment. Among the features are an impressive cherry blossom tree. Newman's personal favorite, the tree stands just over 16 feet tall, features a crawl over as well as a crawl under, and is covered in real silk blossoms. The tree really is an impressive sight and will be the center of the play area. It is meant to symbolize our relationship with our sister city in Japan, Takaoka. Some of the other play pieces include a miniature replica of the fort, an F22 raptor, a Miami canoe, apple barrels, a cannon, and a tractor. In addition, there will be a Johnny Appleseed standing tall at the entrance as a height marker. I even learned a little bit about Fort Wayne's history through one of the features, a coil of magnetic wire. The wire coil symbolizes Fort Wayne's status as the leading magnetic wire producer in the 1960s. What really pulls everything together is the carpet. The carpet makes the scene and depicts everything from the three rivers to a runway for the F22. And, to ensure that kids can go wild, the carpet is laid over a squishy foam two and half inches thick. To make sure there is something for all age groups, the play area also features a miniature city. Along one wall there are small replica buildings with each storefront representing one of the sponsors. Each building will offer a fun activity for kids as well as a place for pretend play.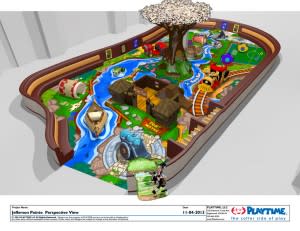 One of the most impressive buildings is the Lutheran Children's Hospital ER. This storefront takes it a step further with a seven-foot helicopter hanging above its building. Lutheran Children's Hospital ER is the key sponsor of the play area taking their mission of helping kids live a healthy life out into the community. Other sponsors include Aboite Dental, Summit City Chevrolet,  Three Rivers Federal Credit Union and Adams Radio group, which will have a radio board behind their store front for kids to play with. This new play area will be a great place for families to go and spend the day! There is plenty of seating for parents and the layout allows parents to be present and have full access to their children. And, while the play area serves as a haven from bad weather, it is also equipped with overhead doors that will be opened on nice days to give a bit of that outdoor element. Once completed, this new area will be the largest indoor retail play space in the state of Indiana. Newman says, "Pictures really don't do it justice.The scale will surprise you." So make sure you come out and see for yourself; you definitely won't want to miss this one of a kind experience. Please join us for the ribbon cutting at 11 am on August 23, 2014! The play area is located in the Jefferson Pointe Shopping Center between Barnes and Noble and Justice. It is open during normal mall business hours and closed on major holidays.