Fort Wayne will soon be home to it's first indoor farmer's market running through the winter season! The Fort Wayne Farmer's Market celebrates its grand opening day Saturday, October 9 at 9 a.m. at Parkview Field's Lincoln Financial Event Center. The market will be open seasonally from October through May on Saturdays and will feature more than two dozen local vendors. Vendors include local farmers and food producers along with artisans and craft vendors.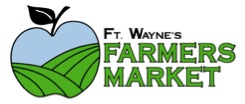 Along with local produce, baked goods and non-perishable food products will be for sale. Market organizers plan for entertainment, educational sessions and cooking demonstrations to happen in the coming months, including the feature of Parkview Field's own top chef.
The idea for the market started with Leigh Rowan of Big Brick House Bakery and Lora Schnurr of Aunt Lora's Sweets, who noticed a need for local produce in the winter. Both vendors who will sell their products at the market. Market organizers aim to promote a motto of "Buy Local, Buy Fresh" to Fort Wayne consumers, in addition to building up awareness for healthy eating, consumer advocacy and Fort Wayne support. The aim of the market is also to draw visitors from both locally and out of town. Organizers strive to make this market a staple in the Fort Wayne area and an annual attraction. Can't attend the grand-opening event? While most local farmer's markets close by October or November each year, the Fort Wayne Farmer's Market will be open every Saturday through May. Organizations supporting the market include the Foellinger-Freimann Botanical Conservatory, Urban Enterprise Association, Founders, Northeast Indiana Sustainable Business Council, Visit Fort Wayne, Parkview Field, Pint and Slice and the Downtown Improvement District. The Parkview Field's Lincoln Financial Event Center is located at 1301 Ewing Street in downtown Fort Wayne. Free parking is available behind the stadium. Can't attend the grand opening event? Don't worry. You can check out the Fort Wayne Farmer's Market every Saturday from 9 a.m. to 12 p.m. For more information on the market itself, or to learn how to become a vendor, visit the market on
online.