I moved to town just over one year ago. A job that was too good to pass up lured me away from my hometown and Southern roots. Luckily, the job has exceeded my expectations and so has Fort Wayne. I am a Southern girl, happily transplanted to Northeast Indiana. Weekends, when you are new in town, can be tough. The combination of not knowing anyone and lots of free time can result in misery. Luckily, it did not take me very long to discover that Fort Wayne has a lot of opportunities to do, learn, and have fun. In fact, a year later, I am still finding new and fun things in Fort Wayne. If you are new to Fort Wayne or if Fort Wayne is your hometown and you want a new perspective, here are two of this newbie's favorite Fort Wayne things - parks and art. One great benefit of miles and miles of flat land is that you can create parks. Everywhere. Fort Wayne has parks. Everywhere. Where I am from, the mountains of Southwest Virginia, parks are either located on narrow strips of land by the river or on the tops of mountains where mountain top strip mining has created flat usable land. The benefits of those types of parks is that you either have a nice cool shady place by the river or a beautiful view from the mountain top. But here, there is so much land that you can take an old farmstead and turn it into a working farm for a park or take a swath of land downtown and create a rose garden. Options abound. Fort Wayne's many parks and recreation areas provide great choices for group or individual fun. If you are looking for a nice place to spend a Saturday morning or afternoon you will never have to look far for a park in Fort Wayne or Allen County.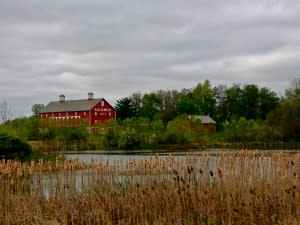 Both Foster Park (on the city's south side) and Salomon Farm Park (to the north) have fantastic walking trails that link to the Fort Wayne trail system and offer beautiful views. You may golf or walk by the river at Foster Park, while at Salomon Farm you can check out the summer farmer's market or other farming activities that may be available throughout the year.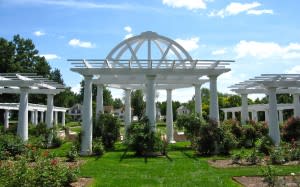 All Fort Wayne parks are pretty, but none are quite as special as Lakeside Park. In the late spring and summer Lakeside Park's rose garden comes alive with blooms and the sweet aromas. It is a nice little oasis in the midst of downtown. You can take a stroll through the flowers than sit by the lake and enjoy lunch or just take in the view. On occasion you might even get to witness a wedding in the rose garden! Headwaters Park in the heart of downtown Fort Wayne is an essential spot for all newcomers. When you arrive in town, check out the Calendar of Events so that you can keep up with all the festivals and events at Headwaters Park. There are fun times to be had all summer long. You won't want to miss GermanFest or Three Rivers Festival! The best thing about Fort Wayne parks is that they are filled with Fort Wayne residents, whom you will find to be friendly and kind. This is a great way to get to know your community and have a big time. It was a surprise to find that Fort Wayne has an active and interesting arts scene.  No, it is not New York, Los Angeles, or Chicago, but interesting art is alive and well. Fort Wayne is home to many talented artists. If you are looking for handcrafted jewelry, sculpture, paintings, or mixed media, it is here. A good place to start is the Fort Wayne Museum of Art. It is lovely.  The Museum hosts Thursday evening events in the gift shop and art openings regularly. Other galleries and festivals thrive in the area, including a monthly event called Last Saturday where local galleries and businesses downtown host art-related events. A must see gallery is The Orchard Gallery located near Covington Plaza. You can find all kinds of treasures at The Orchard. It is worth a visit. Speaking of Covington, the Covington Art Fair in the Covington Plaza on Jefferson Boulevard is an eclectic collection of local, regional, and national artists. It is an awesome local art event. You can find everything from photography, paintings, and sculpture to jewelry made from recycled bowling balls. The arts scene in Fort Wayne is rich with talent, treasure, and interesting and kind people. To find out what is going on with local artists check out Artlink, Arts United, or the Downtown Improvement District calendars. The best thing about being new in town is the excitement that comes with discovering all the new, fun things to do. In Fort Wayne there is enough to keep that excitement alive for a long time; in my case it is at a year and counting.