Fort Wayne is centered on the rivers, and there's no better way to celebrate their important contribution to the life and culture of the city than IPFW's RiverFest on June 22 from 9 a.m. to midnight.  The festival at the IPFW campus has food, music, art, and fun for the whole family.  This year, the festival is adding a new event, the Cardboard Regatta, sponsored by Kelly Box & Packaging Corp. and ROCK 104.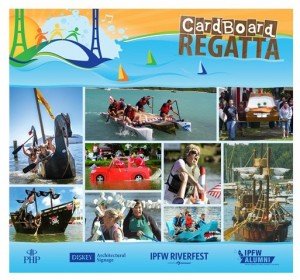 This first-ever
Cardboard Regatta
in Fort Wayne will begin at 10:30 a.m. at West side of St. Joseph River.  Participants need to design and build a boat made fully of corrugated cardboard and only people-powered.  There are different categories depending on how many people are in the team and what specifications used to construct the boat.  The top five finishers get a cash prize, and there are another $400 for winners in categories like the People's Choice Award and the Titanic Award (for most spectacular sinking). Workshops have already been held about how to build a cardboard boat, but you can check out cool cardboard boat ideas on a
Pinterest board
made by the IPFW Alumni association. Boat registration for the Cardboard Regatta starts at $25 a team.  Sign up
here
.  If you don't have time to build ahead, consider entering in the "Build-On-Site" category where you can build a 1-2 person boat with the materials provided beginning at 10:30 a.m.  Get more tips from the
IPFW Alumni Association
about boat construction and other information.