As if we needed another good reason to attend TinCaps ballgames at Parkview Field (besides the fun action on the field and the opportunity to relax in a beautiful ballpark!), now there's something new to entice us there! A new hospitality area called The 400 Club is being built in the center field. Its called 400 Club because it overlooks the field and is 400 feet from home plate.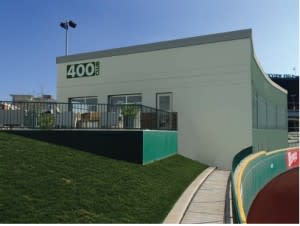 This area will accommodate parties of 20-150 people. The enclosed area will have a grill, bathroom facilities, heat and, perhaps more importantly for summer games, air conditioning. Catering for the hospitality area will include the best of the park's best concession goodies— mini burgers, pork sliders, grilled burger with onions, nacho bar, burritos, boneless wings, waffle fries, jalapeno poppers, fried macaroni and cheese bites and more. Plus there will be a build your own ice cream bar with hot fudge toppings that is not offered elsewhere in park.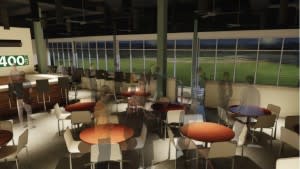 According to Brad Shank, VP of ticket sales for Parkview Field, beer and wine are included in the ticket price of $40 per person for groups of 20 or more. "It is an all-you-can-eat buffet that will begin 30 minutes before the game," he said. The hospitality area will open May 22. Already, Shank has been blown away by the interest in booking the hospitality area by various groups. "We've already sold more than half of our available dates for the hospitality area," he said. The hospitality area can be used for special events such as wedding receptions, class reunions, rehearsal dinners, holiday parties. If you need a place to meet with family or friends for an upcoming special event, consider the new hospitality area at Parkview Field. It promises to be an unforgettable experience! Learn more at www.tincaps.com.