If you're looking for a souvenir of Fort Wayne, a stop at the Visitors Center at 927 S. Harrison Street can help.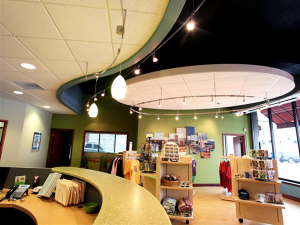 Children will enjoy the snow globes, small stuffed bears 'bearing' a Fort Wayne shirt, Johnny Appleseed alphabet book, and bouncy balls. Older readers can learn about Fort Wayne's historic aspects through several titles. An intricate 34" x 13.5" pencil etching of the Fort Wayne skyline highlights some of Fort Wayne's best features. All ages will find t-shirts and ball caps in a plethora of colors, sizes and designs, including those depicting Fort Wayne's popular Tin Caps. Need a postcard of Fort Wayne? Dozens with modern designs are available at Visit Fort Wayne. Lovely notecards drawn from the enchanted hand of Diane Groehnert depict some of Fort Wayne's most famous landmarks, including Embassy Theatre and Henry's Restaurant.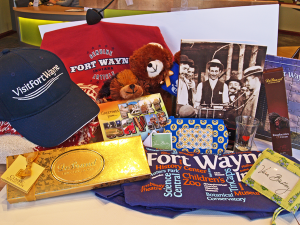 People on the go may choose an attractive travel mug, while the ever-popular shot glass with Fort Wayne logo is a great item to fit into a suitcase's small spaces. Of course, the Fort Wayne souvenir line-up would not be complete without DeBrand chocolate bars. Yum! In addition, several items from Vera Bradley's latest designs are on display and available for purchase. Design-your-own gift boxes of Fort Wayne souvenirs are also available—just ask Visit Fort Wayne staff for assistance. The upcoming holidays make purchases from Visit Fort Wayne especially helpful for hard-to-buy-for individuals. Stop in during regular business hours to peruse the complete inventory. For more information, check them out
online
.