November has begun and so has
National Novel Writing Month
, the challenge to write 50,000 words in a month. The point of NaNoWriMo is not to produce a perfect book ready for print, but to do a rough draft that can be edited later. The site explains that the nonprofit's approach to creative writing is "for
anyone
who has ever thought fleetingly about writing a novel." A deadline, a large goal, and other people in the same boat are great motivators to reach your goal this month. If you are a NaNoWriMo participant visiting Fort Wayne for the Thanksgiving holiday and you want to get away from festivities to rack up your word count, here are some ideal writing spots around town. First off, there are scheduled write-ins around the city hosted by
Fort Wayne NaNoWriMos
. These write-ins will motivate you to write your novel by connecting with other writers and providing a study group kind of feel. Some take place at the Main and Pontiac branches of the
Allen County Public Library
system in Fort Wayne, and some at the
Eckhart Public Library
in neighboring Auburn, IN. There are also write-ins scheduled at
Mocha Lounge
in the southwest part of town and
Firefly Coffee House
on the near northeast side. All of these locations have plenty of room for a group to sit and chat. The hosts of the write-ins make sure there are enough power strips for everyone to plug in their laptop, and the Pontiac branch has extra laptops available for use if needed. The Fort Wayne NaNoWriMos 
Google calendar
shows the dates and times for these write-ins. Check back throughout the month for any new ones scheduled or for schedule changes. At the coffee shops you can also enjoy tasty treats. Mocha Lounge has a wide range of chai, coffee, and teas. Firefly has delicious smoothies to choose from and art exhibits to gaze at.
Fortezza Coffee
is another destination to visit. There are no scheduled write-ins there, but it is a downtown coffee shop with delicious coffee and a cozy atmosphere. Not a coffee drinker? Try their matcha tea. For a mix of the familiar and the unique, visit the downtown Starbucks at the corner of West Jefferson and Fairfield. It's built in an old mechanic shop, and you can sit in what used to be the garage for a sense of being outside while still protected from the elements. Many people in Fort Wayne consider this to be their informal office, so you would be in good company working diligently at your project while enjoying a different sort of scenery.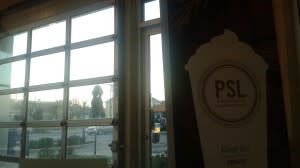 If you would rather have complete silence and want a break from the computer screen, you can visit the Silent Reading Room at the main branch of the Allen County Public Library. It's a space with long tables and comfortable leather chairs where no technology or talking is allowed. It's a peaceful place to sit and hear the scratch of your pen against paper. Later you can type up your words to add to your word count. Also located at the main branch is the
ACPL Genealogy Center
with the second largest research collection in the country. If you have extra time on your hands it would be a great place to do research before you edit your current novel or glean inspiration for next year's novel. Check the various sites, social media pages, and calendars for holiday hours and any schedule changes. And good luck this November on hitting your word count goal!