I'd like to tell you the story of a little kid who was too smart for his own good. (Spoiler alert: If you've read any of my previous posts, I'm sure you can guess that that kid was me.) In 1981, Glenbrook Mall was undergoing some major changes, including the addition of new anchor store Hudson's. To celebrate its grand opening, management had invited the Dynamic Duo – Batman and Robin themselves – to make an appearance, and boy, was I excited. I remember standing near the door waiting for their grand entrance, and when they finally arrived…I bawled my little eyes out. Why? Because even 4-year-old me knew that those chumps were fakes. Since when did Batman have a mustache? And the last time I checked, Robin wasn't older than Batman. Did my mother support me and my keen observational skills? No. In fact, I had to pose for a picture with the imposters. Not surprisingly, she still has that picture, and I'm sure she'd be more than happy to show it to you. I tell you this story in anticipation of
Batman Live
, an extravagant,
Cirque de Soleil
-esque traveling stage show coming December 4 and 5 to the Allen County War Memorial Coliseum here in Fort Wayne, Indiana. Retelling the story of Robin's origin (this happens, conveniently, at a traveling circus),
Batman Live
features everything you'd expect in a show about the Caped Crusader: Alfred, his trusted butler and father figure; his hi-tech arsenal, including a Batmobile designed especially for this show; and his rogues' gallery of murderers, thieves, birdmen, and plant enthusiasts. I watched a PBS special recently on the making of the show that featured not only the creative minds behind the show itself, but also some of the top DC Comics' talent with whom the producers consulted, like Jim Lee and Geoff Johns. I'm really genuinely excited to see what they've all come up with.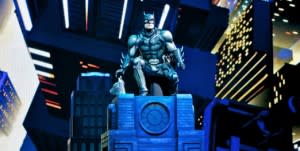 No kid seeing Batman Live will have to suffer the existential agony of wondering whether Batman really exists like I did on that fateful day so many years ago. Heck, from what I've seen so far, I may have to question whether I'm right in thinking that Batman doesn't exist. Tickets for all three shows (Tuesday, December 4 at 7:30 p.m., Wednesday, December 5 at 3:30 p.m., and Wednesday, December 5 at 7:30 p.m.) are still available; prices range from $17.50 plus fees to $77.50 plus fees. AND - you can even win tickets to the show!
Visit
http://www.batmanlive.com
for more information.