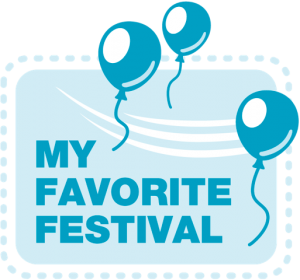 The Three Rivers Festival has been held in Fort Wayne since 1969, so it was around when I was a teenager (I won't say what decade that was!). My dad, who worked on the railroad and was gone from home a lot, loved any parade and made an effort to take us to this one when he was home. It meant getting my two sisters and Mom up early and driving to Fort Wayne (we lived outside of Allen County), walking a long way from a parking spot to some place on the parade route that was not already claimed by early-morning parade watchers. Most years, the weather was already hot by the time the parade started. No matter how hot or tired he was from working all week, Dad always had a look of anticipation on his face as he watched each float drift by. Later, Dad would take us to a vendor selling favorite festival food like cotton candy and corn dogs and ice cream. Yum! While I usually complained about attending the 3 Rivers Festival parade because it was tiring and hot, I also knew it was an opportunity to spend quality time with my family. I appreciated that even if I was a teenager! I've attended the Three Rivers Festival parade many times since my teen years. Dad is gone now but his memory lives on for me each time I watch the parade. What memories are you making for your family with the 3 Rivers Festival? This year's 3 River Festival Parade starts at 9:45 on Saturday, July 14. - - - - - - - - - - - - - - - - - -- - - - - - - - -
Three Rivers Festival
Friday, July 13, 2012 - Saturday, July 21, 2012
Indiana's second largest festival offers nine days of fun for the entire family!  From the opening day parade, arts, crafts, amusement rides, and International Village, to live music, the Bed Race, and the all-new RiverGames Water Wars and canoe races, Three Rivers Festival brings family-friendly fun to the heart of downtown Fort Wayne! 
Location: Headwaters Park – Downtown Fort Wayne
For additional information, please visit the Three Rivers Festival website.