This year's Fort4Fitness has come and gone, and I feel pretty good about the result – I finished more than six minutes under the time I had set as a goal. But with more races to run – and fall weather to enjoy – I wanted to get back out on the trails. However, a busy schedule and lousy weather weren't making that easy. This past week, though, I braved the rain to take to the fitness loop at Kreager Park, and with a little bit of runner's luck, I got the full loop in between showers.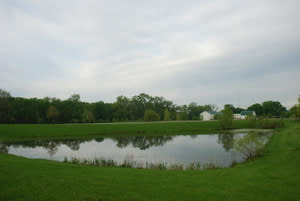 Kreager Park, located off North River Road, is Fort Wayne's most rural park, which makes sense, considering the park is built on what was once farmland. It
feels
rural too. Shoaff Park's loops, which I wrote about in my last "Favorite Places to Run" post, have some pretty isolated stretches, but you never feel like you're outside of the city. There is a lot of open space here, which I enjoyed. Like Shoaff Park, there are multiple smaller loops – three, in fact – each a little less than a mile in length. If you run the perimeter of the park as I did, you'll get in about two miles. Also like Shoaff Park, you'll find a stretch of the Rivergreenway here, and if you're heading east on the trail, you'll reach the end of the Maumee Pathway at Moser Park in New Haven. I'll be honest: often my "runs" devolve into brisk walks, but I managed a solid run at Kreager and felt really good when I finished. If you want to learn more about Kreager Park, especially Taylor's Dream Boundless Playground, or the Rivergreenway, please visit
previous blog posts
or
www.fortwayneparks.org
.