If we took a poll, most people who live in Fort Wayne would probably not be able to name many of the military skirmishes that took place in the area 200+ years ago. Members of Historic Fort Wayne, Inc. want to change that.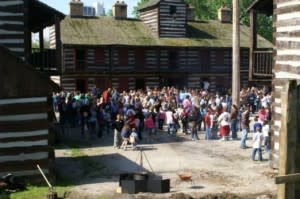 A series of monthly special events are planned in 2012 that should convince anyone that while it may cost more to live in the Summit City than 200 years ago, it's much safer and saner than it was then. The next event at the Old Fort is the
Muster on the St. Mary's
. Members of the Historic Old Fort, Inc. and Friends of the Fort will be costumed and ready to depict the lives of soldiers and countrymen from 1812. Visitors are encouraged to discuss living conditions, commerce, family life and health with the re-enactors while strolling among areas of the fort. Special areas of the Fort will be available for the public, including the Doctor's office, the Officers' Quarters and the Village. (When special events are not planned at the Fort, these areas are typically off-limits to visitors.) Moderately priced souvenirs can be purchased at the Kekionga Mercantile. Upcoming events include a re-enactment of the Revolutionary War in July and a siege of the Miamis in August. The 1812 Siege of Fort Wayne in September promises to be exciting! Muster on the St. Mary's Saturday, May 19, 2012 11:00 am-8:00 pm Sunday, May 20, 2012 11:00 am-4:00 pm Admission of a free will donation is appreciated. Historic Old Fort 1201 Spy Run Directions: The Old Fort is located over the bridge on the north side of Spy Run Ave. Go to Fourth Street and park at Lawton Park. The fort can be reached after a short stroll down the River Greenway. For additional information contact Historic Fort Wayne, Inc. at 260.460.4763 or visit their
website
.