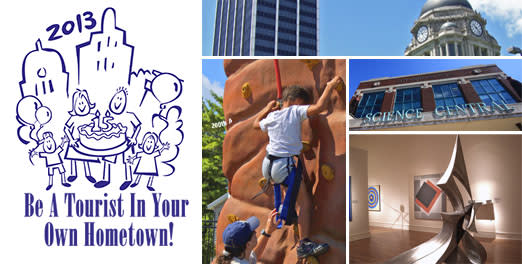 Local? Visitor? Everyone can find something to see and do at Fort Wayne, Indiana's own annual "Be A Tourist In Your Own Hometown," taking place Sunday, September 8! Where else can you gain FREE access to a dozen of Fort Wayne's most popular museums? This event is not to be missed! Go to a museum or attraction you've never visited. Or, if you are from Fort Wayne -- visit your favorite museum through a new set of eyes. You might be surprised at what you see! This year's event takes place from noon to 5 p.m. You can download a special "passport" for your journey on the Visit Fort Wayne website here. My personal picks? The views inside the historic Allen County Courthouse cannot be beat. A walk through fauna and floral at the Foellinger-Freimann Botanical Conservatory will be a great start or end to your day. Of course, the History Center offers fun for visitors of all ages. Your trip to this year's event won't be complete without a little taste of Fort Wayne history!
Participating attractions this year include: African/African-American Historical Museum, Allen County Courthouse, Artlink, Embassy Theatre, Foellinger-Freimann Botanical Conservatory, Fort Wayne Museum of Art, Historic Fort Wayne, History Center, The Lincoln Tower, Science Central, Parkview Field, Visitors Center
You can pick up your passport at any area Kroger store, Tower Bank location or the Visitors Center downtown. One passport is good for an entire party, and passports can also be picked up on the day of the event. This is a great chance to get out and explore downtown Fort Wayne in a unique way! For more information on Be a Tourist in Your Own Hometown visit the Be a Tourist page at Visit Fort Wayne.