Fort Wayne, Indiana, a city of festivals. Although fun can be had nearly all year round, peak festival season is summer. June and July have something going on nearly every week in Fort Wayne!
Because there are so many unique options, there is an event for everyone, from cultural festivals such as Greekfest and Germanfest, to festivals celebrating music and art, like Middle Waves Music Festival and Taste of the Arts.
Growing up in and around Fort Wayne gave me the opportunity to continue traditions that my parents started when I was a kid. And there seems to be something new every year!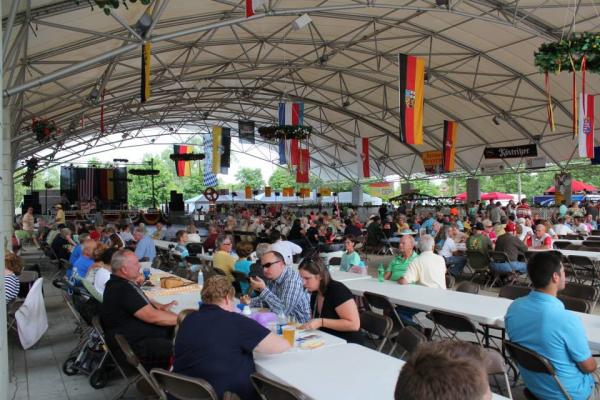 Unique Festivals in Fort Wayne, Indiana
Middle Waves Music Festival
Middle Waves is an up-and-coming music festival on September 14th and 15th. There will be 30 local and national artists performing on three different stages. As music festivals are one of the most popular warm-weather activities, Fort Wayne having its own shows that the city continues to grow!
Germanfest
One of the busiest summer festivals is Germanfest, which was started in 1981. My favorite activity, taking place on June 10th, is the Weinerdog Nationals. Dachshunds from all over are brought to race and show that their little legs are just as fast. Food, drinks, and music are also a part of the festivities taking place between June 3rd and June 10th this year.
Buskerfest
Celebrating the art of the street performer, Buskerfest, June 30, is the perfect festival for enjoying the unexpected. From street art to performances, fire dancers, and more. 
Taste of the Arts
For a taste of Fort Wayne, join Fort Wayne on August 24-25 and indulge in downtown Fort Wayne's premiere arts and food festival.
Johnny Appleseed Festival
Celebrate the life and times of John Chapman, aka Johnny Appleseed. From food, demonstrations, crafts, antiques, entertainment, children's area, farmers market, and more there is something for everyone to enjoy at this festival. Mark your calendars for September 15-16, and get a taste of yesteryear with this period authentic fall festival.
For information about the other festivals and events that Fort Wayne has to offer, check out the Fort Wayne's festival calendar!
Reader Recommendations
Hobnobben Film Festival - June