Come together and celebrate Martin Luther King Jr. in Fort Wayne by visiting the African/African American Historical Society and join the Unity Day Celebration at the Grand Wayne Convention Center.
One room at the African/African American Historical Society and Museum (AAAHSM) is dedicated to the Civil Rights movement. There's a partition in the middle, with pictures and newspaper clippings, documenting the notable: attack dogs attacking, water hoses blasting and suffocating the young, the bombing of the 16th Street Baptist Church where four little girls lost their lives in 1963.
Martin Luther King Jr. is, no doubt, present. In additional to pictures and pull quotes, there's a bronze bust of him there.
It's very apt that you have to walk in a circle around the partition to see the content; there isn't a beginning, middle or end to the stories told in the room. It's an ongoing tale, an infinite loop.
We haven't stopped marching and we won't stop remembering, celebrating and contextualizing Dr. King's memory and mission statement. On Monday, January 16th, on Dr. King's birthday and federally-celebrated holiday, the Martin Luther King Jr.'s Club and the AAAHSM will both be honoring the renown pastor's legacy.
The African American museum, located at 436 East Douglas Avenue, 46802, will be open Monday the 16th from 11:00 a.m. – 3 p.m. The museum will be waiving tour charges on the historic day, but donations will be greatly appreciated.
Unity Day Celebration
Down the street at the Grand Wayne Convention Center, the MLK Club will host their 32nd Annual Unity Day Celebration. The proceedings last from 10 a.m. – 4 p.m. Speakers for the day include Clergy of the Year, Cedric Walker, and guest speaker Troy Patterson Thomas, who will orate Dr. King's "I Have A Dream" speech, using the same mesmerizing timber and pitch as its creator.
Also on the guest-speaker agenda is a presentation by Al Jennings entitled "Sons of Barack," a 23-minute video featuring 13 young men, teenage to 30-somethings, discussing President Barack Obama's 2008 DNC Convention speech.
According to Clifford Buttram, MLK Marketing Liason, "[the club's] aim is to consistently pursue the ideals of Dr. King and remain a beacon of support to the Fort Wayne community. Our primary mission is to provide the community with a progressive course of cultural awareness by broadening our commitment to African-American heritage and the heritage of other ethnic groups. We strive to educate the community on the philosophy of non-violence and service to the disenfranchised as expounded by Dr. King.
"Finally, we endeavor to support African-American businesses, collaborate with like-minded, community-oriented business organizations, and provide a beacon for community support in the spirit and memory of Dr. Martin Luther King, Jr."
At the day-long event, gospel music will also be performed by area singers and choir members. The Maverick Drill Team and Sheekristyle Dance Academy will perform. Two 1,000 scholarships will be awarded to local students. Three deserving community leaders, Mayor Tom Henry, Iric Headley, and Pastor Elisha Harris, will receive service awards.
Attendees can peruse the event's vendor area. Parkview will provide free health screenings; Walgreens will offer free flu shots. The full day will conclude with a "thank you" to President Obama, including a showing of "A War for Your Soul" by filmmaker Reggie Bullock. "The film is an amazing depiction of the black experience. It has been viewed by hundreds and praised by mayors, city leaders, students and educational officials in almost every city around the country," said Buttram.
For more information, visit the event's website at www.mlkclub.com. Or call the MLK Hotline at 260.493.1534 or 260.493.0980.
For information about the African/African American Historical Society Museum (AAAHSM), call 260.348.4465.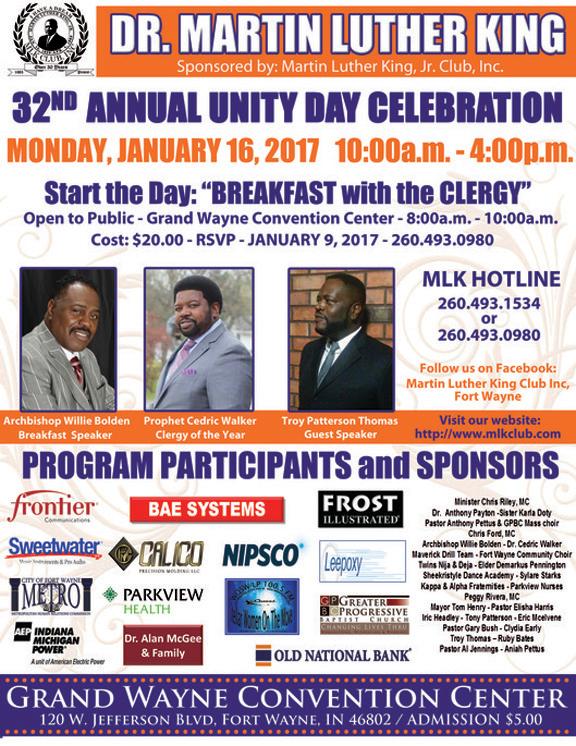 ​