I eat out. A lot. If you've been following my posts, you know that already. While I've focused on particular restaurants thus far, I thought I'd do something a little different this time out.
I'm starting a series of posts I call my "Favorite Fives." Each list will be – you guessed it – my five favorite foods in a particular category. Entrées, appetizers, desserts, you name it, I have a list for it. Some posts may be pretty detailed, some may just hit you with the facts.
The first list is one of the latter and equally the easiest and the most difficult for me to assemble: my favorite five hamburgers. The beauty of hamburgers is that they're like snowflakes…no two are quite the same.
5. Lunch Box Café Hamburger It's the burger with history! The Lunch Box Café uses Gardner's Drive Inn's original recipe. Gardner's, once the place to see and be seen in Fort Wayne, lives on through this sandwich. Learn more about the Lunch Box Café
4. Five Guys Bacon Cheeseburger This is a burger I first discovered in Charlottesville, Virginia, and was thrilled when the chain came to Fort Wayne. These burgers are a mouthful – order a "little cheeseburger" for a single patty (plenty of food for most people I know). And boy, do you get a lot of fries. A regular order can feed two. Get 'em Cajun style for some extra kick. Learn more about Five Guys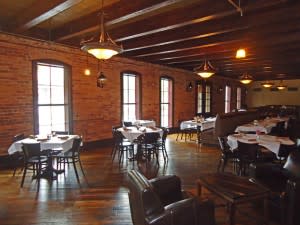 2. Penguin Point's Super Wally I recently re-discovered Penguin Point, and I'm kicking myself for all the time we've spent apart. It's the Wally Sauce that makes this burger, and coupled with a side of crinkly fries and a soda, it's nearly the perfect meal. Learn more about Penguin Point
1. Culver's ButterBurger with Cheese A burger lover's delight, the buttered bun and fresh toppings (I get mine with ketchup, mustard, lettuce, pickle, and onion) make this one my favorite. Culver's has great sides, too, my favorites being the onion rings and Wisconsin cheese curds. Learn more about Culver's