I can't really tell you much about the artists who've found success on
American Idol
the past few seasons, but I was a fan in the early going. There were a lot of standout performances during those first few seasons but only a handful I can still remember.
Clay Aiken singing Simon & Garfunkel's "Bridge Over Troubled Water,"
Ruben Studdard singing The Carpenters' "Superstar,"
Fantasia Barrino singing "Summertime" from the Gershwins' Porgy and Bess, and
Carrie Underwood singing Heart's "Alone," the performance that proved that, win or lose, she was a star (spoiler alert: she won)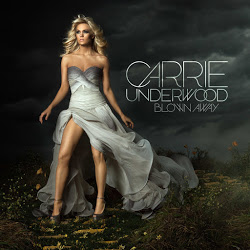 Eight years after being crowned the
Idol
winner, Carrie Underwood is one of country music's – and, well, music's – brightest stars (she just won a Grammy for Best Solo Country Performance, her sixth overall). Carrie returns to Fort Wayne, Indiana, on her Blown Away Tour, performing live at the Allen County War Memorial Coliseum on Sunday, April 14, 2013. In my
post on the Avett Brothers
, I talked about the changes the world of country music has gone through over the last several years. I mentioned stars like Taylor Swift, a country act who has crossed over into pop music (see this year's Grammy performance as proof). Carrie Underwood is another such artist. Even if you aren't a fan of country music, I guarantee you've heard some of her songs, "Jesus, Take the Wheel" and "Before He Cheats" among them. Sure, they're country hits, but they work as straight-up pop songs. And without that pop sensibility, I think it's unlikely that she would have won
Idol
. But she did, and music is better for it. Come see The Blown Away tour when it – ahem – blows into Fort Wayne in April. The show also features rising country star Hunter Hayes. Tickets range in price from $41.50 to $61.50 (additional fees may apply). See
www.carrieunderwoodofficial.com
or
www.ticketmaster.com
for more details.