At 36 I find myself at the tail end of the "
TRL
Generation."
TRL
, or
Total Request Live
, was a music video countdown show that aired every weekday on MTV from the late '90s through most of the 2000s. Hosted initially by Carson Daly (now host of
Last Call
and
The Voice
, both on NBC) and later by several young VJs,
TRL
became the platform from which many of the pop stars of the era – Britney Spears, Christina Aguilera, *NSYNC, and the Backstreet Boys – launched their careers. But there were other, less traditional pop stars whose popularity grew because of the exposure
TRL
gave them. One such star announced his arrival with these four words: "My name is Kid!" Kid Rock, Detroit's own rock/rap superstar, is bringing the 2013 Rebel Soul Tour to Fort Wayne, Indiana, on Sunday, March 26, 2013.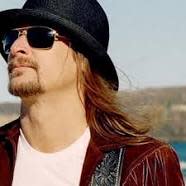 I have two distinct memories of Kid Rock, the first of which illustrates what I think Kid Rock's music is best for: road trips. While not the most exciting of anecdotes, I can still remember cranking up Kid Rock's "Cowboy" on a weekend drive from Dayton to West Lafayette during my first year of law school. For whatever reason, that's stuck with me. My second memory involves accidentally (but unsurprisingly) seeing Kid Rock live. Three years ago, Conan O'Brien took his show on the road, literally, following the debacle that was Jay Leno's return to
The Tonight Show
. Throughout the tour, various special guests showed up to join Conan onstage. We caught the show in East Lansing, Michigan, at Michigan State University's Breslin Center. As we waited for the show to start, I turned to my wife and said that I'd lay money on a Kid Rock appearance sometime that evening. And sure enough, about two-thirds of the way through, there he was onstage, singing "If I Was President." The crowd loved him, and seeing him play just one song was enough to understand why. So if you're looking for some old fashioned rock 'n' roll, head out to see Kid Rock's 2013 Rebel Soul Tour, featuring Buckcherry and Hellbound Glory. Tickets are still available and range in price from $47 to $83 (additional fees may apply). Check out
www.kidrock.com
or
www.ticketmaster.com
for more information.