I can't think of any other business besides Buffalo Wild Wings – restaurant or otherwise – with a name that no one ever uses. I've never heard a single person say, "Hey, let's eat at Buffalo Wild Wings tonight." Even with the word "wild" in the title, that name's a bit too stuffy. So you should call it what folks in the know call it: B-Dubs. If you love sports, if you love bar food, if you love spending time with family and friends, then B-Dubs is the place for you.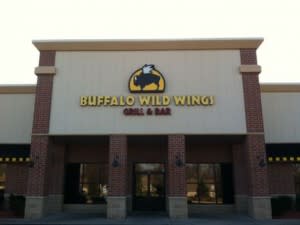 This is a great place to watch a game or to bring the team after they've played a game of their own. Obviously, the menu is built around wings, and with a line-up of 16 sauces, there's one (or five) to appeal to everyone's tastes. But I'm not here to talk about wings. No, I'm here to talk about one of my favorite things – the Big Jack Daddy Burger. I'm not even going to bother putting this into my own words. Direct from the menu: "We pile hickory-smoked pulled pork, fried onion rings, cheddar jack cheese and our signature Honey BBQ
™
sauce on an already mouth-watering burger." It. Is. Delicious. I don't eat burgers much anymore, but when I do, the Big Jack Daddy Burger has become my top choice. B-Dubs also has a variety of sides from which to choose, but you can't go wrong with the Buffalo Chips (and who doesn't get the giggles ordering something with a name that could be mistaken for poop). Add cheese and Cajun spices and you've got a perfect complement to the sandwich. Too hungry to wait? Try the Mini Corn Dogs or the Soft Pretzels with queso sauce and spicy mustard (or one of their many other sauces or dressings). B-Dubs is a great place to hang out year 'round, but it's almost March – where better to catch a little Madness? Be sure to visit one of Fort Wayne's three locations: 1425 West Dupont Road 10524 Maysville Road 5519 Coventry Lane And in nearby Auburn: 1071 Smaltz Way
Click here
for more information.