Among the many 'A Summer to Remember' concerts offered at the Foellinger Theatre,
Midnight Special
would be top of my list! I'll admit I recall hearing these songs on the radio at the time of their release, but hat's OK because they were my Dreamy Song Groups (Meaning I got all dewy-eyed listening to them). They're still popular today, as witnessed on my son's Wii Rock Band—we've played 'More than a Feeling' by Boston enough times to wear it out!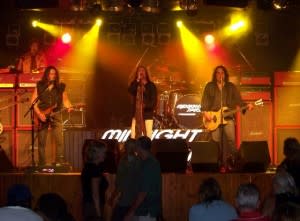 Some sticklers might want to argue that Queen's music isn't really dreamy ('We Will Rock You', 'Bohemian Rhapsody', 'We are the Champions'). But they are really fun songs and you'll hear 'Champions' played during nearly every Komet hockey game. In Fort Wayne that means something! This concert is an awesome opportunity to re-live some of the great tunes in your life! If you need a review of bands and their hits to be included during Midnight Special here it is: Boston – 'More than a Feeling', 'Peace of Mind' Journey -- 'Don't Stop Believing', 'Faithfully' Styx —'Babe', 'Lady', 'Come Sail Away', 'The Best of Times' Led Zeppelin — 'Stairway to Heaven', 'Kashmir', 'Whole Lotta Love', 'Black Dog'. Foreigner -- 'I want to Know What Love Is', 'Cold as Ice', 'Waiting for a Girl like you', 'Urgent'. The show starts at 8:00 p.m. Tickets are $10 for reserve and stadium seating. For more information visit them
online
or call the box office at 260.427.6715 (Summer only). Foellinger Theatre is located at 3411 Sherman Blvd -- in Franke Park next to the Children's Zoo on Sherman Boulevard. Foellinger Theatre offers free parking at all concerts.