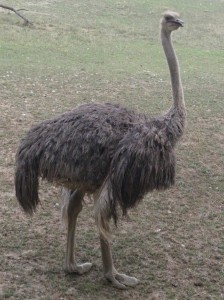 Stroll through the scenic African Journey exhibit at the
Fort Wayne Children's Zoo
, and you'll find yourself amidst a variety of animals that roam Africa's vast savannah. You may catch a glimpse of a powerful lion through an impressive glass window, feed a majestic giraffe (lettuce, anyone?), or watch a few wildebeest as they graze in the distance. Of course, there's plenty more to see, and you may be surprised to learn about some of the zoo's lesser known creatures, as well. Take, for instance, the ostrich – the world's largest bird. Male ostriches weigh close to 300 pounds and stand nearly nine feet tall, but it's hard to comprehend just how big an ostrich really is until you see this fabulous feathered creature face to face!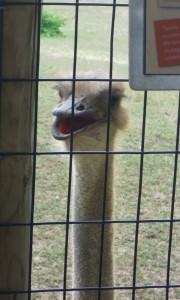 Oh, and consider this: A single ostrich egg weighs three pounds! It may not sound like much, but it's actually comparable to about two dozen chicken eggs! And its true that ostriches don't fly, but they do run FAST. In fact, they can reach speeds of 30 to 40 miles per hour! Finally, you may notice that ostrich feathers look familiar. That's because they are often used to make household feather dusters! Be sure to check out the zoo's ostrich the next time you visit – you'll be glad you did!
The Fort Wayne Children's Zoo
is open daily from 9 a.m. until 5 p.m. Admission is $13 for adults, $8.50 for children ages 2 through 14 and $10.50 for seniors (60 and over). Babies age 1 and younger are free. The zoo closes for the season on Oct. 9.