You may have heard about a
dog show coming
to Fort Wayne. But did you know this is the largest fall dog show in the Midwest? As such, it will be drawing top dogs from around the country to compete. This includes some of the dogs you'll see competing on TV at the Westminster Kennel Club show! My family is excited about the dog show this year because we've just added a four-legged member to our family. Meet our boston terrier, Carolina Jane.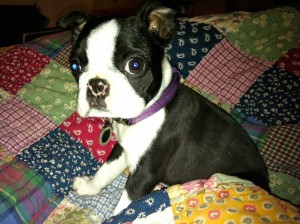 You won't see Carolina Jane competing at the event since she's a pet and not a show dog, but the Northeastern Indiana Kennel Club (NEIKC) definitely factored into our puppy selection. The NEIKC members were very helpful to our family as we had questions about breeds in our search for the right dog. This local club is active in our community and you can find them at events through the year including at the
Three Rivers Festival
. If you're interested in adding a furry friend to your family, consider the Old Fort Cluster Dog Show your perfect opportunity to see over 150 registered breeds. You can meet area breeders and use their knowledge to help you decide which dog is right for your family. In addition, you can watch the dogs perform in multiple competitions over five days. Already giving your affection to a dog? The event has something for you too! Over 25 national vendors will be selling items from jewelry and collectibles to grooming and training supplies. The NEIKC is opening the event free of charge, but they are asking you to bring a canned or bagged pet food item that will be donated to
Community Harvest Food Bank
. Supporting local organizations that fit our passions is something our family believes in. As we enter a time of year where we regularly focus on the hunger needs of our neighbors, we should also remember the animals. In a situation where food is a struggle in the home, we know that children and adults are fed before pets. Please take the opportunity to bring a gift to the animals of our community while you celebrate the gift of pets to your own life. For details on the competitions and events over the five day event, visit
www.neikc.org
. Show hours are 8:00 am to 4:00 pm daily, November 2nd through the 6th at the
Allen County War Memorial Coliseum
.