I always know that it is "officially" summer when
Lunch on the Square
kicks off at One Summit Square, at the corner of Calhoun and Wayne Street.  The Downtown Improvement Districts hosts this FREE event every Thursday in June, July and August from 11:30am-1pm.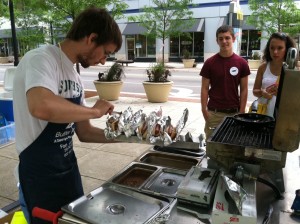 Lunch on the Square is a great way to bring people together to enjoy great music, fantastic local food (or you can brown bag it) and, of course, some sunshine!  This is an all-ages event that appeals to everyone from toddlers to great-grandparents. Whether you choose to grab a table with friends, a front row seat, or lay a blanket out on the lawn for you and the kids, you'll have a great time!
(And another bonus-it's FREE!)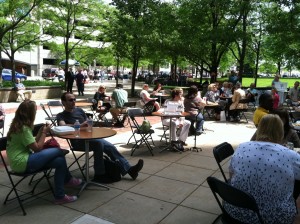 You may be a little hesitant to stop by the informational tables that outline the seating area, but don't be.  
No, they are not there to sell you anything
- they are there to help and inform you - so ask questions, pick up a brochure. I had a nice chat with a PNC bank representative today about their "Grow Up Great" program (visit
www.pncgrowupgreat.com
for more information on that). And don't forget to stop by the Health and Wellness Corner, where they give tips on healthy activities compliments of St. Joseph Hospital. Check out
www.downtownfortwayne.com
for a performance schedule and more information, and I'll see you at
Lunch on the Square!