A century ago farmers relied on steam power to complete arduous agricultural tasks, including threshing and saw milling.  A farmer would cut, bind, and form wheat into shocks in the fields. Then he loaded the dry bundles on a wagon and took them to the thresher connected to a gas-powered tractor. A threshing crew threw the shocks into the thresher's feeder. It separated wheat from the straw or in the case of corn, ears from the stalk. Steam-powered saw mills were a common and popular site on farms. A farmer with a wood lot cut logs throughout the winter, thus utilizing his steam tractor in farming's off-season.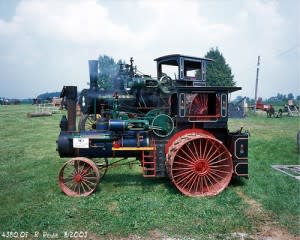 People who appreciate the opportunity to view and appreciate antique farm and industrial equipment can do so at the Maumee Valley Antique Gas and Steam Show. The Maumee Valley Antique Steam & Gas Engine Show will be held Aug. 16-19 in New Haven at Jefferson Township Park off Webster Road. The technology farmers and early industry used in the early 1900s will be demonstrated throughout the show. At the saw mill, visitors can watch how a farmer would have cut boards from three-foot logs and shingles for roofs.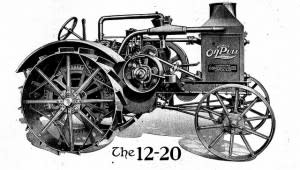 Antique tractors used for plowing, tilling, and harvesting corn, soybeans, and wheat in the early twentieth century will be on display. Members of the Indiana Blacksmiths Association will provide demonstrations as will the Fort Wayne Flying Circuits model airplane club. Throughout the weekend, fairgoers may attend a quilt show, flea market, or take a hayride. Spike & the Bulldogs will perform a concert on Friday night. Concessions will be available at the 50-acre park. A crowd favorite is sweet corn steamed in the husk. There is a $5.00 daily charge at the entrance gate; children 12 and under are free. For more information about the Maumee Valley Antique Gas and Steam show go to www.maumeevalley.org.