As I started to write this post, I realized something – I'm really bad at identifying music by year. You want artists or song titles or album titles? No problem. But I'm almost always off on the release date. I can usually give you a range of a year or two (the newer the music, the narrower the range), but the things I associate with a particular song or band – a person, a place, a period of time – get in the way. And there's a very particular time and place I associate with the band about whom I'm writing. Matchbox Twenty, one of the great pop rock bands of the last 20 years (wow, I'm old) will be performing here in Fort Wayne at the historic Embassy Theatre on February 12th.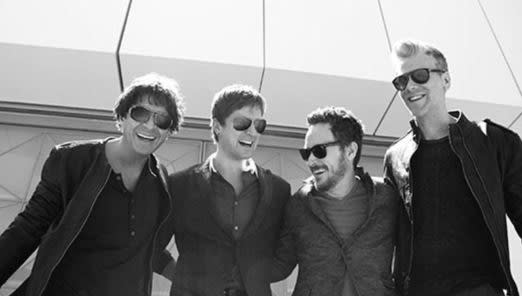 Yourself or Someone Like You
, Matchbox Twenty's first album, is still one of my all-time favorites. It produced six singles: "Long Day," "Push," "3 A.M.," "Real World," "Back 2 Good," and "Girl Like That." All great songs, but my favorite track on the album has always been "Hang." Their follow-ups never quite matched the success of that first album, certainly a situation many a band has encountered. But that's not to say they were flops – their highest charting single, "Bent," was actually the lead single on their second album,
Mad Season
. Rob Thomas, Matchbox Twenty's lead singer, has also enjoyed a lot of success as a solo artist, most notably performing the vocals on Carlos Santana's 1999 hit, "Smooth." Matchbox Twenty was in heavy rotation during my sophomore year at Purdue University (1996-97) with artists like Third Eye Blind, Tonic, and Duncan Sheik. I saw them live in the fall of '96, just as they were starting to break. They put on a great live show, including a standout cover of Cyndi Lauper's "Time After Time." Not a lot of bands survived their mid- to late-'90s popularity, but I'm happy to say that a band I saw on the verge of success is still touring and making good music in 2013. Tickets for the show, with opening act Phillip Phillips (
American Idol
Season 11 winner), are still available and range in price from $39.00 – $75.00 (additional fees may apply). For more information, please visit
www.visitfortwayne.com
or
www.ticketmaster.com
.
AND - YOU CAN WIN TICKETS ONLINE!
Simply click
here
to sign up to win!