If you're thinking about sampling the classic music scene here in Fort Wayne, let me recommend some of our very own
Fort Wayne Philharmonic
concerts. The Masterworks has a lineup of performances has some really exciting music planned for the season. Let me list a couple favorites that you'll definitely want to put on your calendar: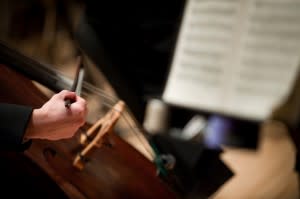 Masterworks: All Mozart – Saturday, January 10
Whenever the Philharmonic does Mozart, it's good. The bubbly exuberance of the young Classical composer always comes through his compositions. When the violins of the Philharmonic ripple through his sparkling arpeggios and chords, the world is a better place. The "Jupiter" symphony is like listening to an 18
th
century depiction of the solar system. Strings and a small brass section race through twinkling passages that create, for the listener, an antiqued example of galactic grandeur. And then, there is Mozart's clarinet concerto – the melody of the second movement is THE clarinet piece to remember. It's plaintive yet pleasant, resolving in a graceful way that leaves you wanting more. This concert will take place in the Embassy Theatre.
Beethoven's Third Symphony – Saturday, February 28
Beethoven was just edging from the Classical stage to his Romantic style when he composed this symphony. Written with a title page that originally paid homage to Napoleon Bonaparte, Beethoven later destroyed the first cover and left the piece as a monument to the ideal of a great hero. Carl Maria Von Weber's "Overture" from
Der Freischutz
features the French horns in a slow introductory melody, making one think of dark forests and German folk tales. As an interesting side note, portions of this overture were used to add excitement to action radio programs from the 1940s and 1950s – simply hearing the tension-laced chords raises goose bumps and mental images of villains and heroes locked in epic struggles. This concert will be given in in IPFW's Auer Performance Hall, in the Rhinehart Music Center.
Beethoven's Fourth Piano Concerto – Saturday, April 18
The concert begins with Dvorak's Symphony no. 5. A peppy yet strong melody flits from strings to flutes in ways that make one think of the famous "New World" symphony. This is a great introduction to another work by Beethoven, his fourth Piano Concerto. Guest artist Ilya Yakushev will make a second guest appearance with the Philharmonic for this performance. Yakushev, from Russia, has an impressive background in piano performance and was well received when last he played with the Fort Wayne Philharmonic in 2012. This concert will also take place in the Auer Performance hall, at IPFW's Rhinehart Music Center. In classical repertoire, the true gems of great music shine through during the best of concerts. Why not reserve a place to see these great pieces with the
Fort Wayne Philharmonic
?