A child clasping a bunch of dried corn husks, a glitter of sunlight on antique glass and the mouthwatering sight of dozens of Dutch ovens bubbling away over open fires – this must be the Johnny Appleseed Festival. It's on September 20 and 21, this year. Women in long, calico dresses, men in straw hats, and kids with all sorts of nineteenth-century gadgets will be at this event, which was created to celebrate the life of American frontiersman Johnny Appleseed. This man with a tin pot on his head planted dozens of apple trees throughout Midwestern America, and legend has it that Appleseed spent his final days here, in the Fort Wayne region under the care of local settlers. In recognition of one of Fort Wayne's most famous folk figures, the Summit City holds a festival in September, when the apple crop is at its peak. Everything 'apple' is here at the festival, along with a ton of other wonderful goods and finds. Like music? Stroll over to one of several stages set up on the festival grounds. You'll hear everything from Suzuki violin and cello players to banjo and voice combos. Cloggers kick up their heels to tunes like "Buffalo Gals Won't You Come Out Tonight" and "Old Joe Clark." Story tellers gather kids and their families to tell tales about animals and pioneers – with a fair amount of story stretching in the process.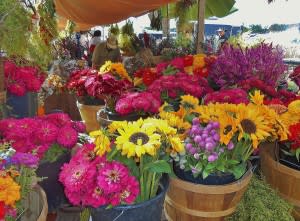 But don't think that this is only a performance-based event. No – if you like to shop, then put on your good shoes and prepare to be outside in the woodsmoke and sunshine for hours. There is a little bit of everything here. Want to find a pot of fresh mums to decorate your doorstep? Check out the Farmer's Market. You can also purchase fresh vegetables, apples, cut flowers and pumpkins by the dozens. Or maybe you like hand-crafted goods – well, step up to the rows of artisan booths, where hand-beaded necklaces, painted glass, silverware-turned-jewelry, and cute cabin night lights are all waiting to find a home. Potpourri, soaps made from goat milk, and a plethora of other household products can be found here, too. And don't forget about the pottery and hand-fashioned metalwork – everything from shining copper to ebony cast iron is there, with the workmen and women present, to tell you how they completed each project. Historical re-enactors camp out on the banks of the St. Joe River, where they routinely fire their cannons on the hour. For the most part, the re-enactors demonstrate Civil War practices and costumes, but you'll also find some Revolutionary War and 1812-era costumes. Don't forget to look for General Lee from the South – his gray uniform stands out strikingly against the dark blue of the many Union troops.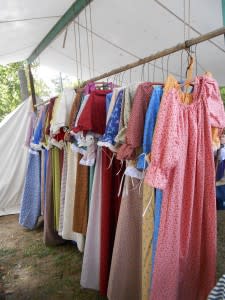 And then there is the food. For some folks, this is the main draw of the festival. Giant containers of root beer are for sale – check out the keepsake blue and brown glass bottles.  Turkey soup, pork chops, barbecued sandwiches, lemonade, and caramel popcorn are some of the offerings. You have to browse along the rows of tents and perhaps ask the person ahead of you to find out what's being made. If it smells good, undoubtedly, there will be a line – a long one. But it's the Johnny Appleseed Festival – and coming to explore the event is free. Why not sample one of the best festivals that Fort Wayne has to offer?