Come and celebrate the 30
th
Anniversary Mannheim Steamroller Christmas Tour at the Embassy Theatre from 8:00 pm-10 pm on Friday, December 5, 2014 and be prepared to thoroughly enjoy an innovative, lyrical evening.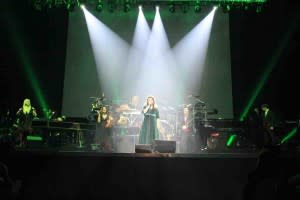 In addition to old holiday favorites, the 2014 tour will also highlight songs from the group's latest album,
Fresh Aire Music of Mannheim
, with such lyrical titles as "Come Home to the Sea," "Sunrise at Rhodes," "The 7 Stars of the Big Dipper," "Wolfgang Amaedus Penguin," and many more new pieces. Longtime fans of the classical rock band will welcome founder / songwriter / recorder Chip Davis, Jr. as he continues to entertain the world with beautiful music, including the gorgeous sounds of harpsichord, piano, flute, violins, camel bells, and other carefully-chosen orchestration.  Mannheim, which released its first album in 1984, has sold more than 40 million albums, outselling artists such as Bruce Springsteen, Bon Jovi and Billy Joel. According to one of the fun facts on the group's website, "If you lined up all the CDs sold [by them], they would stretch from New York to Los Angeles and then into the Pacific Ocean -- more than 3000 miles – and if you stacked up the CDs, they would be taller than the Sears Tower -- 645 times taller." The creative group has been awarded 16 gold records, 7 platinum and 4 multi-platinum by the Recording Industry Association of America.  Steamroller, in addition to being the Number 1 Christmas music artist of all time, selling more than 27 million albums; in addition, the band is the top-selling Halloween artist today. Tickets can be purchased by contacting the Embassy Theatre box office (260.424.5665; 125 West Jefferson Blvd Fort Wayne, IN 46802) or Ticketmaster (1.800.745.3000;
www.ticketmaster.com
). 
NOTE:  The Embassy is a historic venue so there are no elevators.
Come to the Embassy on December 5, 2014 and celebrate Bethlehem with Mannheim!