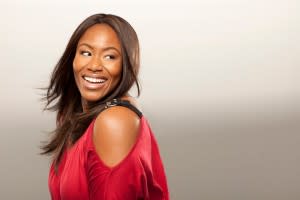 How hard would it be to tell American Idol judge Simon Cowell he is forgiven for insulting you? At least one person in the world knows the answer. Grammy-nominated singer Mandisa was among 12 contestants chosen on March 9, 2006, as a finalist in Idol's fifth season.
During her stint on the show, Cowell criticized Mandisa, a native Californian, for her physical size. He commented after seeing her that a "bigger stage would be needed" the next time she was on the show. Mandisa did not retaliate to Cowell's cruel remarks. Later, when appearing in front of Cowell for another judging, Mandisa, who had attended church in her early years, told him she forgave him for his comments. "I say that, even though you have not asked for it," she said, "because I figure if Jesus could die so all of my wrongs could be forgiven, I can certainly extend that same grace to you." Cowell told Mandisa he was humbled and apologized to her.
Mandisa will be in Fort Wayne in concert with Brandon Heath on Saturday, April 12 at 7:00 p.m. at Blackhawk Ministries (see ticket info below). I interviewed Mandisa a few months after she appeared on American Idol. Though she didn't win, she was thrilled to be nominated. "People thought I had made the wrong decision choosing to sing the contemporary Christian song, 'Praise You' for my career," she told me. "It was the right decision for me."
Despite the mostly positive feedback for her merciful attitude, Mandisa who graduated with a degree in music from Fisk University in Nashville was eliminated from American Idol on April 5, 2006 and ended up placing ninth for the season. Her musical career was only beginning, however. Mandisa released her first single, 'Only the World', on May 22, 2007. The song had a successful debut on the Billboard Hot Singles Sales chart, reaching #2 the first week and #1 the following week. 'True Beauty', her first full-length album, was released on July 31, 2007. It debuted at #1 on Soundscan's Christian /Gospel and iTunes Christian/Gospel charts. Mandisa garnered a Best Pop /Contemporary Gospel Album Grammy nomination for this song. A book Idol Eyes written with Angela Elwell Hunt was also published by Tyndale House in May 2007. Since then, Mandisa has released several albums— 2009's Freedom and 2011's What If We Were Real. It contains a fun tune, 'Good Morning'.
You can hear many of Mandisa's songs and other contemporary Christian musical artists on local Christian radio stations – WBCL and WLAB. Another Mandisa song that gets my feet and spirit soaring is 'Lose My Soul' sung with TobyMac and Kirk Franklin from the album 'Portable Sounds'. Probably my favorite Mandisa tune is 'Overcomer' on her latest album by the same name. It is joyful and contains promises of good things to happen when we keep looking up. Mandisa will be appearing in The Fort with Brandon Heath, another great singer. The video for his song, 'Wait and See' is one of my all-time favorites in Christian music. This is a concert you won't want to miss if you love contemporary Christian music.
For more information go to the Trinity Communications website. Blackhawk Ministries 7400 East State Boulevard Ft Wayne, IN 46815 $17.00 Group (10+) $20.00 Advance ($27 at door) 260.484.1029