Click here for our Relocation Guide page.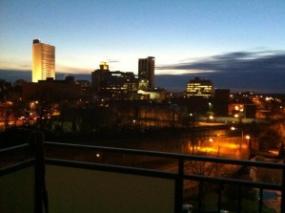 Over the last couple of weeks, several of you have asked what it is that makes me love Fort Wayne so much.  It seems that some of you aren't quite convinced yet… or you're still holding on to somewhere else.  While I think that Fort Wayne is just the absolute best place to make a new life for yourself, I believe that the success of any big move is all in your approach. When my husband and I moved here, I had BIG plans.  I had no intention of slowing down, and wanted to be a part of everything!  Let's be honest… we all know that isn't realistic.  However, it got me off to a great start.  Before moving, I had entertained the idea of joining the Junior League of Nashville.  There was no sense in starting such a process if I was only preparing to move away.  I also knew that reaching out to the Junior League of Fort Wayne would be a great first step to finding my niche here in Indiana… so I decided it was best to wait. Here are the 6 things I would suggest to anyone making a big move:
1. Find your Cheers. I have to give credit to a man named Dane for this one.  Once upon a time, I dated Dane and  he always tried to explain to me the importance of everyone having a place that felt like home.  I never did get it.  If I wanted to feel at home, why not just enjoy my HOME.  Now that I've moved 7 hours away from what I used to call home, I know that everyone needs a place where they are not just welcome but recognized.  Somewhere that people know your name and preferably your order! Don't get me wrong, while Chris and I have found our Cheers, we found a lot of things we could have lived without along the way.  We tried a lot of bad Mexican food, waited entirely too long on drink orders, and got a taste of some of the worst customer service in town.  The important thing is that we went on a lot of adventures together until we found our place (shout out to Mad Anthony's… and their bourbon barrel stout)!
2. Volunteer, volunteer, then volunteer some more. The fastest way to get involved and find yourself falling in love with an area is through voluntarism.  My organization of choice?  The Junior League of Fort Wayne.  Junior League has allowed me to work on a variety of projects, teach job skills to women in need, and overcome a few of my fears… all while training me to be a better individual and a leader in the community. There are plenty of other ways to get involved and volunteer.  Some of the local organizations who are always looking for help include:
For those of you who aren't in Northeast Indiana, a quick Google search will help you find plenty of ways to get involved.
3. Find your church home. I believe that finding a new church is one of the hardest things to do when you move to a new city or state.  There are many different types of churches in this world and each person is looking for something different in a church family. I recommend attending services at each church you try at least 2-3 times.  If you find yourself making excuses to hit the snooze button on Sunday morning, chances are you haven't found the right church.  However, be honest with yourself.  If you keep trying new churches and haven't found the right one, it may be time to take a spiritual inventory.  Are you really making the right decisions for you?  Are you opening yourself up to listen to what God is really calling you to do?
4. Take a class. When I first moved to town, I immediately enrolled in an anatomy and physiology class at the local community college.  Was it the wisest decision I've ever made?  Probably not.  I had hoped to go back to school for nursing, but haven't been able to stick that one out financially or physically at this time.  However, I made friends, learned valuable information, and was forced to navigate the area pretty quickly. I also enrolled in Board Bootcamp.  Board Bootcamp is part of the Get on Board initiative that is made possible by Young Leaders of Northeast Indiana and the Paul Clarke Nonprofit Resource Center.  Attendance was free, but space was limited.  Have I served on a board yet?  No.  However, I learned a lot and look forward to the opportunities that bootcamp prepared me for. There are so many other ways to learn and meet others all over the place. There are always free classes offered by the city, parks and recreation department, and sometimes even local schools.  Find something that interests you and dive in head first!  Not only will you be expanding your knowledge, but you'll make new friends while you're on your way.
5. Make your way to the gym, and find some accountability there. Finding accountability at the gym is still something new to me, but it's something that has given me a sense of belonging like I never knew it could!  I recently enrolled at a big fitness center in town that offers everything I could possibly ask for (Spiece Fitness).  The best part of my new gym membership is the group fitness aspect.  There are so many great classes available, but the sense of community is absolutely priceless.  The instructors remember your name, other members are interested in meeting you, and when you miss a class… people wonder where you are!  I now have no justification for hitting the snooze button in the morning.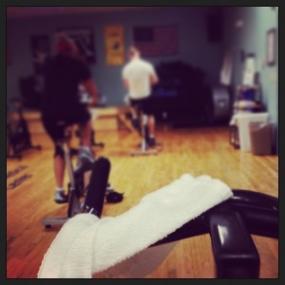 Another fun way I've been able to stay connected to others that share my interest in fitness is through online accountability groups.  Thanks to the amazing and multi-talented Amber Recker, Fort Wayne now has a Monthly Mileage Challenge group on Facebook.  When I originally signed up to participate, I had never met a single one of the other members in person.  We all get to encourage others when we post our walking, running, or cycling miles for the day.  The one thing I didn't expect to get from participation from such a group was making new friends in REAL life!  What happens on the internet doesn't have to stay on the internet!  In fact, one of the other members in our group happens to have Crohn's disease, reached out to me, and we've formed our own CCFA Take Steps walk team.  How cool is that?  It truly is a small world… if you'll allow it to be one.
6. Take the opportunity to get pampered! This is mainly a concern for the ladies.  However, I know that there are plenty of men out there who take their hair, nail, and skin care very seriously.  Try every nail salon, hair stylist, and massage therapist you get a recommendation for… you're bound to find a good fit along the way!  Finding a hair stylist that understood me, could make my hair look the way I wanted, and fit into my budget took a little time.  I left quite a few hair and nail salons with a "meh" experience.  I even left one nail salon with the intention of running as far in the other direction as possible.  It took me a couple of years, but I now have my go-to places and can help make recommendations for other newcomers! There really is no one-size-fits-all approach to making somewhere new feel like home.  As much as I love Indiana, I promise you that I had my moments.  I had days where I thought about giving up and going back to Tennessee.  I had times where I felt I would never make enough new friends.  The one thing I didn't do is take this move lying down.  I jumped in with both feet and never gave up. 
Now, I can't even imagine the idea of leaving this wonderful city!  Have you ever made a big move?  What is it that made you finally feel at home? For more information on how to make Fort Wayne feel like home, and to find out even more about relocating to our great city, check out Visit Fort Wayne!