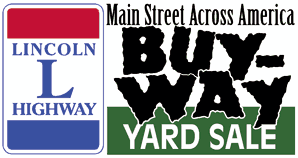 This infamous yard sale boasts yard sales that stretch from Iowa to West Virginia, but you can be sure to find a few treasures along Indiana's own Lincoln Highway. The eighth annual sale runs August 9, 10 and 11. Yard sales are great way to find your next treasure. Whether you're searching for a bargain, a treasured antique, your next Pinterest project or Etsy find, you're likely to come home with at least one thing you can't live without. A full listing of all the Indiana BUY-WAY listings can be found here, but I'd recommend making it a day-trip with a few options within driving distance of Fort Wayne:
Fort Wayne - Breakfast at Cindy's Diner, located on the Lincoln Highway at 830 South Harrison Street
Wolf Lake - Sale at Living Water Lutheran Church at 1197 S. US Highway 33
Van Wert, OH - Lunch or Dinner at Balyeats Coffee Shop for "Old Fashioned" food
Middle Point, OH - Catch a movie at the Van-Del Drive-In Theatre at 19986 Lincoln Highway
To map your route, use the Official Map of the Lincoln Highway complete with points of interest. It's as simple as grabbing your keys, map and cash to get shopping. And, if bargain-hunting adventures are your thing, mark your calendar for this event on the second-full weekend in August every year!