New Year's Eve is less than a week away! Ring in 2014 by attending one of these great events going on around Fort Wayne! Whether you're looking for something fun to do with your friends and family, want to take in a great meal, or are just looking for the perfect place to get your party on - there are a few options for whatever you want to do to celebrate a great 2013, and usher in the new year!
For the Family...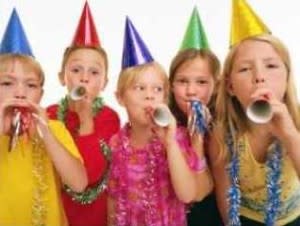 Science Central Countdown to Noon If you have little ones that want to celebrate the new year, but that won't make it to midnight, join Science Central at their 14th annual Countdown to Noon! From 10am-2pm on New Year's Eve. families can enjoy making party hats, noisemakers and facepainting; activity tables and science demonstrations; and view city lights around the world at Science of a Sphere. As noon approaches visitors can gather for a soda pop toast and the annual balloon drop celebrating the new year! Admission is $8 per person ages 3 and older. For more information visit the event page at Visit Fort Wayne.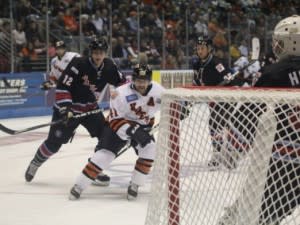 Fort Wayne Komet Hockey A New Year's Eve tradition for years, the Fort Wayne Komets annual New Year's Eve game is a great way to kick-off your evening festivities! Whether you're going out with a group of friends, or need something fun to do with the family, this tradition is a great one to take part in! The puck drops at 7:30 - giving you plenty of time after the game to get to your final destination where you'll watch the ball drop at midnight! Tickets start at $12.95 for upper arena seating and $17.50 for lower arena. This game tends to be heavily attended, so make sure to order your tickets now, or show up to the Coliseum early!
Roller Dome North All Night Skate For your older kids that are ready to go out and celebrate the New Year with friends, but aren't quite old enough to go somewhere you don't fully trust, the Roller Dome North is offering an all night skate on New Year's Eve from 7:30pm-5am. Tickets are $22 in advance ($25 at the door) and include: skate rental, party bags w/ various goodies, hot dog and a drink.  You can purchase tickets to the New Year's Eve All Night Skate here.
Wine and Dine...
Biaggi's Biaggi's will be offering a special New Year's Eve Chef's Menu for those looking for a little ambience to start your New Year's Eve celebrations. The menu includes a three course meal and a choice of a glass of House Red or White wine or Moscato d' Asti. For your appetizer you can choose between Polenca Gorgonzola or Crispy Shrimp Amalfi. Entree choices are Porcini Mushroom Tortelloni or Grilled Ribeye. Finish your delicious meal off with your choice of Bailey's Creme Brulee or Chocolate Chip Banana Paradiso. Reservations are suggested, and the three course dinner is $40 per person. To make a reservation contact Biaggi's at 260.459.6700.
Club Soda Club Soda wants you spend New Year's Eve with them! Dine on their delicious menu, take part in a few fruity cocktails, and usher in 2014! The West Central Quartet will be providing entertainment for the evening. Reservations are required, and tables are going fast! To make a reservation contact Club Soda at 260.426.3442.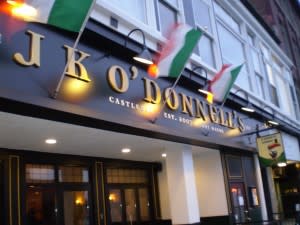 JK O'Donnell's Ring in 2014 with Irish flare at JK O'Donnell's in downtown Fort Wayne! The first toast of the evening will take place at 7pm (midnight in Ireland!), and there will be a second to celebrate the start of our new year at midnight! Rhapsody in Wax will be playing the music all night long. Make JK's your starting point for the night, stay all night, or make it where you end your festivities. Whatever you choose, JK O'Donnell's is ready for you! For more information, call JK O'Donnell's at 260.420.5563.
New Year's for Wimps Want to celebrate 2014 a little earlier, or have a great first stop on you night out? Check out New Year's for Wimps at the Lucky Moose on Dupont Road. From 5-10pm enjoy a buffet featuring royal red shrimp, salmon, ribs, pecan chicken, salad bar, dessert crepes and more! Then, right before 10pm, the countdown begins! Everyone (over 21) will receive a glass of champagne and will ring in 2014 - 2 hours early. After that the restaurant is shut down so everyone can go out to their next stop, or simply go home and relax. New Year's for Wimps is open to all ages and is $14.95 per person.
Party the Night Away...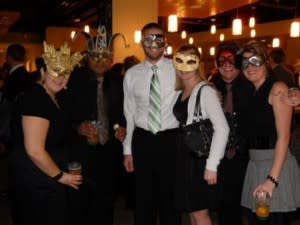 YLNI Masquerade Ball The annual YLNI  New Year's Eve Masquerade Ball is a CAN'T MISS party! Regarded as the premier event for young professionals in the area, the YLNI Masquerade Ball goes with a Great Gatsby theme for this year's festivities. Grab your best "Roaring 20's" garb and ring in 2014 at the Grand Wayne Center. Tickets are $45 for non-members and $40 for members. You can also get VIP tickets for $65. For more information check out Visit Fort Wayne, or YLNI.
Don Hall's Guesthouse New Year's Eve Party Enjoy your New Year's Eve at Hall's Guesthouse in the Grand Ballroom. Enjoy a prime-rib buffet from 7-9pm, and stay for the party after! Entertainment will be provided by Paul Stewart featuring Brian & JJ McCoy. Make sure to stick around for the complimentary champagne toast at midnight! Not only can you enjoy the party, the Guesthouse is also offering hotel packages that include tickets for 2 to the party, an overnight stay at The Guesthouse, and breakfast on New Year's Day at the special breakfast buffet. Tickets start at $89 per couple, and hotel packages including dinner, the party, hotel stay, and breakfast begin at $175. More information can be found at Visit Fort Wayne. To make reservations contact Don Hall's Guesthouse.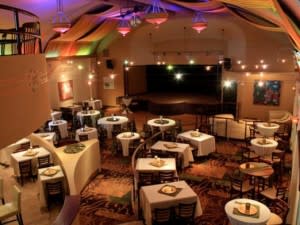 New Year's Eve Party at The Philmore Celebrate New Year's Eve at the historic Philmore on Broadway. Join The Philmore for music, dancing, dinner or light appetizers and a champagne toast at midnight! There will be live entertainment provided by Last Call. There will be two seatings for the evening. The first features a five-course dinner provided by Affine. The second seating will feature light appetizers. You can purchase tickets for the first seating for $60. Tickets for the second seating are $25. If you want to enjoy dinner, and stay for the second seating to ring in 2014, you can purchase a combo ticket for $80. To make reservations call The Philmore at 260.745.1000.
Freakdown 2014 Ring in 2014 at Ceruti's with the Freak Brothers! The night will include heavy hors d'oeuvres, midnight champagne toast, balloon drop, party favors, and cash bar service. Entertainment will be provided by local favorite, the Freak Brothers. Tickets are $20 per person and can be purchased here, or call Ceruiti's at 260.207.2000. No matter what you decide to do, have a happy, and safe, New Year!