In recent years, the Fort Wayne music scene has grown tremendously. Every weekend you can find music in a variety of places around Fort Wayne. And, what better way to mix Fort Wayne's growing music scene than with three of our wonderful festivals!
With summer time upon us, my favorite part of the year has begun; FESTIVAL SEASON! There are so many to look forward to each summer such as the Three Rivers Festival, Taste of the Arts, Middle Waves Music Festival, and the new Open Streets.
Thankfully, we do not need to wait until the later summer months to enjoy our community and all of its talents! The week of June 19th will be filled with wonderful opportunities to enjoy live music, local businesses, community, instruments, art, and entertainment! The fun-filled week will begin on June 21st with Make Music Day, followed on June 23rd and 24th by the one and only Sweetwater GearFest, and closing the week off the evening of June 24th with BuskerFest! 

Make Music Day Fort Wayne
Make Music Day is an international celebration all about making, playing, and sharing music. For the 4th year in a row, Fort Wayne is put on the national and international map with this 35-year-old Summer Solstice Festival.
Make Music Day is just as it sounds – a day filled with listening to and making music! The celebration kicks off Wednesday, June 21st at 11 AM in Freimann Square. There will be some of our awesome food trucks (King Arther's Trolley, Brava's, Wise Guys, Hawkins Famous Fish), and 12 hands-on musical activities such as a guitar strum, drum circle, musical craft booth, ukulele strum, and jam zone. There will also be a performance stage with some of Fort Wayne's local talent performing all day! 
Starting at 6 PM, Make Music Fort Wayne will take over the downtown area with 15 local businesses hosting performing musicians. A great time to go to one of our local restaurants and shops after work!
Businesses participating include CS3, The Phoenix, Brass Rail, DeBrand Fine Chocolates (downtown), Pedal City, and The Golden! A full list of businesses and performance schedules can be found here.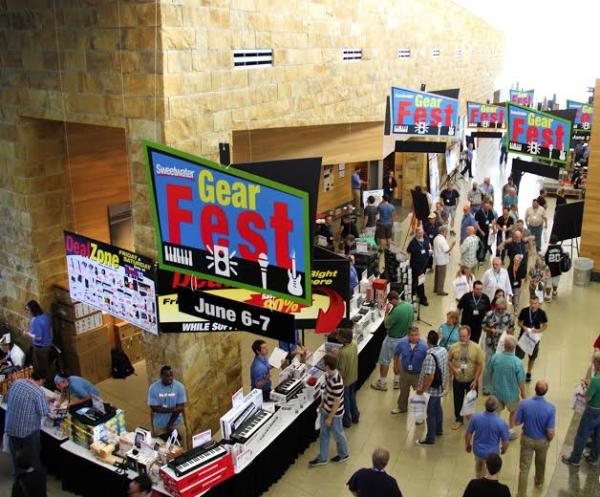 GearFest
Make Music Day will be followed up on June 23rd and 24th with Sweetwater's GearFest!
GearFest is a 2-day celebration of musicians and music gear. This year's line-up not only includes amazing deals, but also includes workshops, vendor demonstrations, clinics and seminars from the music industry's top names, and performances by musicians such as Dweezil Zappa and Eric Johnson.
More information on GearFest can be found on their website. 
Buskerfest
After GearFest, head back downtown to enjoy Buskerfest! Taking place on June 24th from 4PM-10PM. At this unique family-friendly celebration will showcase many talented street performers and music! You can check out details here! 
I hope to see you during this week of music!