Get your pots and pans ready for a fest of Fort Wayne's favorite flavors. Or, maybe you can just plan to order these Fort Wayne classics on your next weekend adventure!
We all delight in dining out at great restaurants. We probably also always order our favorite item on the menu -- most likely the restaurant's signature dish or something it prepares extremely well.
How often have you thought you would love to get the recipe so you could cook the dish at home?
In the spirit of sharing, Fort Wayne magazine published Fort Wayne Cooks. The Fort Wayne area has some very talented chefs, mixologists, and restaurateurs. A variety of the region's establishments -- from those that have been open for decades to those more recently added to the dining scene -- share the recipes from some of those signature dishes.
Enjoy the recipes and, hopefully, you will also come away with an even greater appreciation for the tremendous effort Fort Wayne and the region's chefs, restauranteurs and mixologists put into their craft.

Fort Wayne Recipes
Bacon-Wrapped Scallops, 6 Servings
12 U10 (medium) scallops
6 pieces smoked bacon
Blackening spice
Cumin
Butter
Cooking Instructions
Cut each piece of bacon in half, and wrap each scallop with a half-slice of bacon. Sprinkle each wrapped scallop with blackening spice and cumin.
In a sauté pan, melt some butter and pan sear scallops until golden brown.
Place seared scallops in a 350-degree oven to finish. Cook until bacon is crispy, about 10 minutes.
Bacon-Wrapped Scallops Sauce
6 ounces apricot preserves
¼ cup red wine vinegar
¼ cup brown sugar
½ cup prepared horseradish
½ cup apricot brandy
½ cup of water
Corn starch slurry
Corn Starch Slurry
2 tablespoons corn starch
2 tablespoons water
Cooking Instructions
Mix well. (Note: At first it will seem like cement but keep stirring and the corn starch will dissolve.)
In a saucepan, over low heat, add the apricot preserves, vinegar, brown sugar, horseradish, and apricot brandy. Stir well. Mix in the corn starch slurry and stir. Allow sauce to simmer until it thickens.
After removing from the oven, top scallops with sauce. Serve.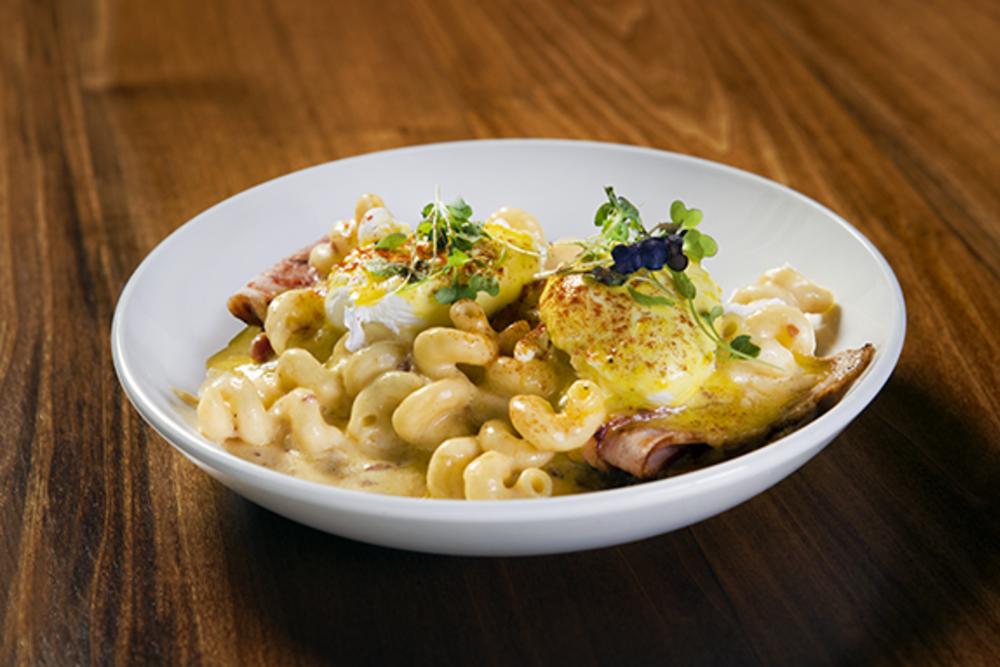 Mac 'N Cheese Eggs Benedict, 4 Servings
8 ounces bacon strips, diced
4 ounces butter
½ cup flour
1-ounce chicken stock
1 tablespoon chef salt (recipe provided in Fort Wayne Magazine)
1 teaspoon paprika
2 quarts heavy cream
1 pound cheddar jack blend, shredded
4 ounces gouda cheese, shredded
4 ounces pepper jack cheese
¼ cup hot sauce
1 pound cooked cavatappi pasta (corkscrew-shaped)
Cooking Instructions
Cook the bacon until golden brown. Add the butter and flour to make a roux. Cook for about 1 minute. Add the chef salt, paprika and chicken stock. Bring to a simmer.
Add heavy cream. Again bring to a simmer.
Add all the cheeses and hot sauce. Cook and stir until all the cheese is blended and melted.
Add the cheese sauce to the cooked noodles. Do not add all of the cheese sauce to pasta.
Eggs
1 cup vinegar
8 eggs
8 ounces Canadian bacon
4 English muffins
Cooking Instructions
Bring two quarts of water to a boil. Add vinegar. (This helps the egg whites to firm up as they coagulate.)
Swirl the water in a whirlpool fashion, drop in two eggs. Poach for 3 minutes. Remove eggs. Continue to cook all eggs.
Split the English muffins and toast. Put Canadian Bacon on a griddle until heated through.
Plate the English muffin and layer with ham and mac 'n cheese. Top off with poached eggs. Ladle extra cheese sauce over eggs. Serve.
— Executive Chef Mike Bentz​
Angel Food Cake French Toast, Serves 4
Butter
8 slices of angel food cake
6 large eggs
1 teaspoon pure vanilla extract
¼ teaspoon cinnamon
¼ cup milk
Cooking Instructions
Beat eggs. Add vanilla extract, cinnamon, and milk. Whisk together. On medium heat, melt butter in large sauté pan.
Dip each cake slice in the egg batter on both sides and make sure the batter is well absorbed.
Place the battered slices in the pan.
Cook until the edges start to slightly crisp. Then flip over and allow edges to get crispy.
Serve with butter, syrup, or choice of toppings. 
This post was originally published in June 2019 and has been updated.