Welcome in the holiday season at the annual
"Night of Lights"!
Every year the night before Thanksgiving, thousands of people gather in downtown Fort Wayne to mark this merry time of year with the much beloved tradition of lighting up the night skyline with twinkling lights, holiday decorations and fireworks. Add this event – Wednesday, November 21 – to your itinerary, it's a sight to behold and a jolly old time you don't want to miss! So snuggle up and join in on the fun with us! Here's what you can expect …
5:45 pm –
Kick off the festivities at Fort Wayne-based Aunt Millie's (Pearl Street) with its Northern Lights and pick up a free hot cider and yummy hometown muffin.
6 pm –
Then head over to the lighting of the Community Center (Main Street) Santa's Workshop display and the History Center's turrets. The Community Center will also be hosting free holiday activities with arts-and-crafts, cookies and drinks, and holiday movies for the kids beginning at 4 pm.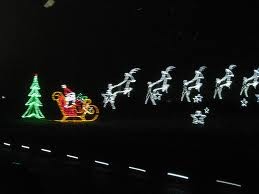 6:15 pm –
Get ready … Santa, Rudolph and his reindeer friends will be heading our way along with Mayor Tom Henry and other special guests (PNC Bank at Main and Calhoun Streets). Santa will be there 5:30 pm – 8 pm for photos.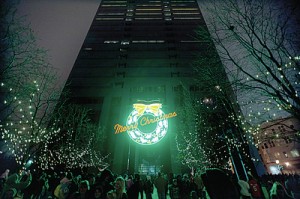 6:45 pm –
Make your way to the Wells Fargo holiday display and Indiana Michigan Power Merry Christmas Wreath (Wayne and Calhoun Streets) and take in a performance by the Fort Wayne Children's Choir (One Summit Square). If you come early, you can also catch the Northrop High School Choir perform at 5 pm.
7:15 pm –
Journey down to the Botanical Conservatory and historic Embassy Theatre (Jefferson Street) window lighting. You can also swing be the holiday gardens anytime from 5 pm – 9 pm for a free family photo with Santa and even meet real reindeer!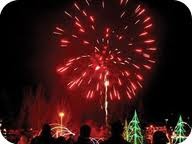 7:45 pm –
Wrap up the enchanted evening with a bang with a spectacular holiday fireworks display at Parkview Field (Jefferson and Ewing Street). Up for more? Continue the fun with a whirl around the ice-skating rink at Headwaters Park, open until 10 pm tonight. What a magical way to start the holiday season! See you at Aunt Millie's! I'll be the one most bundled up, with my signature pink scarf. For more information, check out the
event
and other HolidayFest events
online
.