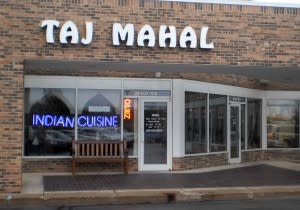 Widely regarded as the "
jewel of India
," the Taj Mahal in Agra, India, is one of the country's top attractions.  Similarly, the
Taj Mahal Indian Restaurant
in Fort Wayne – located at 6410 W. Jefferson Blvd. – can be regarded as one of the city's top dining attractions. I have dined here multiple times and have had an excellent experience each time!  The dining room is spacious, clean, and features Indian relics and works of art.  The staff is extremely friendly and helpful in explaining menu items and food preparation; they are very willing to accommodate any health needs for customers.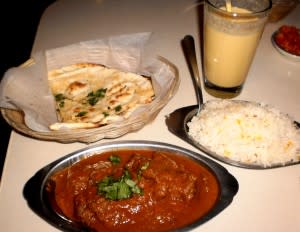 The extensive menu selection thoroughly describes the ingredients for each item.  My personal favorites have been mild Chicken Korma (chicken cooked with cashews, raisins and cream), Lamb Curry, and Biryani Chicken (curried chicken and rice in fragrant saffron).  No meal of mine is ever complete without a glass of mango lassi (mango yogurt drink) and either plain or garlic naan (fresh bread).  There are several vegetarian entrees, seafood dishes, and rice specialties.  Beer and house wines are also available. When you leave, be sure to grab a menu and business card to keep for your return! Visit the restaurant's
website here
for more information and photos.  Carry-out available.
Taj Mahal Indian Restaurant 6410 W. Jefferson Blvd., Suite 9B, Covington Plaza 260-432-8993
Dining room hours:  Open 6 days a week (closed on Tuesday) Lunch buffet: 11:00 a.m. – 3:00 p.m. Dinner: Monday – Thursday, 5:00 p.m. – 10:00 p.m. Friday – Saturday, 5:00 p.m. – 10:00 p.m. Sunday, 11:00 a.m. – 9:00 p.m.