Spring break: (n) Period of time, usually one week, where families escape winter doldrums of northern and Midwest states and head for warmer, tropical locales. Also refers to the time period where adults and children can relax, recharge and reconnect without being held to the demands of normal work/school routine. Spring break is one of the first things to look forward to after the holidays. Many people find themselves staring at the calendar on February 1st chanting "eight more weeks…" While countless families pack up and make extensive travel plans, there are also many families who opt to get away a little closer to home. When your vacation becomes a "staycation," there are still many great things to do here in Fort Wayne that are inexpensive (or, better yet… FREE!) to relax, recharge and reconnect with your family.
Get Back to Your Roots
Whether your family is tightly-knit or scattered to the wind, spend an afternoon in the Genealogy Department of the
Allen County Public Library
and take a look at your family tree. This extensive collection of genealogical information and resources will provide an interesting glimpse into your ancestry. Use the ACPL genealogy database to start piecing together your family's history. Who knows? You might even learn some interesting things about your family that you never knew before.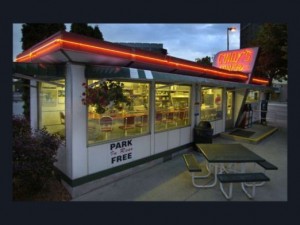 Sample a Classic Taste
Enjoying fun and fabulous food on vacation is a must – and if you're on a "staycation," it shouldn't be any different! If you want to sample some of the most classic and long-standing tastes of Fort Wayne, look to the downtown area. There's Coney Island on Main Street – tasty hot dogs with that one-of-a-kind Coney sauce, all nestled into a steamed bun.
Cindy's Diner
, on the corner of Wayne and Harrison, offers great diner fare, but if you really want to indulge? Order "Garbage" on the breakfast menu. It may not be pretty, but it tastes incredible. Another delicious downtown destination is Powers Hamburgers on South Harrison St. On a good day, you'll smell the burgers & onions before you even get there. And, when lunch is finished, don't forget to top it off with a frosty treat from Fort Wayne's own Zesto shops. Located just south of downtown on Broadway and Creighton, southwest on Falls Drive, north just off Washington Center Road or northeast at St. Joe Road and Maplecrest, Zesto's ice creamy goodness will put a happy twist on any day.
Take a Dip
Many of us associate "spring break" with spending time on a warm, sandy beach with the prospect of playing in the cool water just a few feet away. While we don't have the warm, sandy beach in Fort Wayne, we definitely have options to play in the water… or on the water. Check out
Earth Adventures Unlimited
just west of downtown, or
Fort Wayne Outfitters
just north of the city to rent a canoe or kayak and set out to explore the rivers in our midst.
Hometown Tourism
If these starter ideas aren't going to do the trick, be a true tourist in your own town and head to
www.visitfortwayne.com
for more spring break staycation ideas. You'll find everything you need to cover a week's worth of days with family fun. You'll find details on things to do, places to eat and special events. Don't forget to click the
DEALS
tab, for specials and coupons to save a few dollars while you make many memories. If you're not heading for hot sun and beaches this spring break, make Fort Wayne your destination, and enjoy spring break right in your own hometown!