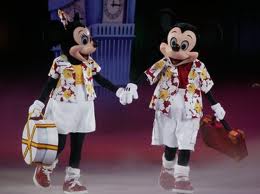 Join Mickey and Minnie Mouse as they take your family on an adventure with The Little Mermaid, The Lion King, Peter Pan and Lilo & Stitch.  The whole Disney gang will join you at the Allen County War Memorial Coliseum from March 29th through April 1st. Not only is this a show that the kids will enjoy, it will take you back to memories of your childhood (I don't admit this often, but I can still recite almost every word of The Little Mermaid).
This truly is an event for all ages. Last year, we enjoyed this as a "Girls Night Out" (which included my three daughters ages 6-13) and each child was quiet and still in their seat as the Disney Princess's took us through their fairy tales. (I'm sure that those of you with multiple children understand what a rare occurrence that is!)
If you want to make a family memory that will last a lifetime, click here to order tickets.
Shows are performed on: Thursday, March 29 : 7:00pm Friday, March 30 : 7:00pm Saturday, March 31 : 11:00am, 3:00pm, 7:00pm Sunday, April 1 : 1:00pm
Looking to make a great family getaway of it?
Check out these Spring Break Ideas and register to win tickets!