Santa Claus and his helpers are pulling out the stops over the next few weeks until Christmas — checking lists, gathering intel on presents, sleigh tune-ups, beard trimmings, checking lists twice, etc. You name it, the jolly man is busy with preparations.
With the same magic of the season, Santa will be making public appearances to meet his biggest fans in person in Fort Wayne during the holiday season.
Santa's Holiday Season in Fort Wayne
Glenbrook Square Mall
Santa can no more resist shopping malls than he can resist a plate of chocolate chip cookies with a tall glass of cold milk.
So, you know he'll be out at Glenbrook Square Mall, 4201 Coldwater Road, leading up to Christmas.
Families can get pictures taken with his Claus-ness at the Macy's court outside Macy's every day, Monday–Saturday from 11 a.m.–8 p.m. and Sundays, noon–6 p.m.
Then the schedule shifts to special hours beginning Friday, Dec. 15. Santa will be available for pictures from 9 a.m.–9 p.m. through Saturday, Dec. 23.
There is an exception: Sunday, Dec. 17, his hours are 10 a.m.–8 p.m.  He'll even be there Christmas Eve, 8 a.m.–6 p.m.
Breakfast With Santa
We all know what Santa's favorite snack is. But a lucky few will get to find out what he likes to have for breakfast during the Breakfast With Santa event.
Santa and Mrs. Claus will eat with guests at First Presbyterian Theatre's McCay Hall on Saturday, Dec. 9, beginning at 10 a.m.
They'll be joined by members of the Peanuts gang who'll mingle with participants, and lead a holiday sing-along.
The event is part of the Fort Wayne Youtheathre's performance of "A Charlie Brown Christmas!" at the church, 300 W. Wayne St.
Admission is $25 for those aged 15 and up, or $30 for children aged 3–14. The cost includes preferred seating tickets to the show.
Christmas in the Country
Santa Claus will be the special guest at Christmas in the Country at the Allen County Fairgrounds.
He'll pose for photos at the event on Friday, Dec. 8 and Saturday, Dec. 9 from 6–9 p.m. on both evenings.
Christmas in the Country will also feature a chili dinner, live animals at a living nativity scene, a live choir, horse-drawn wagon rides, crafts, face paintings, silent auctions and a Christmas tree decorating contest.
The cost to attend is $7 per person, though children under 3 get in free.
You can find the fairgrounds at 2726 Carroll Road.
Botanical Conservatory
Before he heads to the fairgrounds, Santa Claus will hang out with a couple of his reindeer pals at the Botanical Conservatory in downtown Fort Wayne on Saturday, Dec. 9.
From 12–4 p.m. that day, families can meet Santa and two reindeer as part of the conservatory's winter-themed "Snow Days."
If you miss them on the 9th, Santa and sleigh-team members will be back at the conservatory, 1100 S. Calhoun St., on Dec. 16 from 12–4 p.m.
Admission is $5 for adults, $3 for children aged 3-17, and free for children aged 2 or under and members.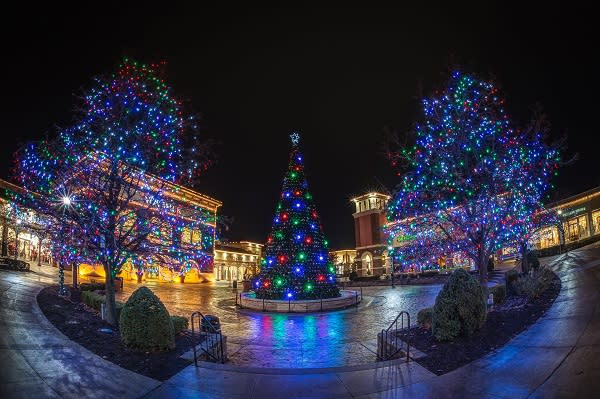 Jefferson Pointe
You can also catch up with Santa and some reindeer at Jefferson Pointe over the next few Saturdays— Dec. 9, Dec. 16 and Dec. 23, from 5–7 p.m.
They'll also make a special appearance at the shopping center, 4130 W. Jefferson Blvd., on Christmas Eve, Sunday, Dec. 24, from noon–2 p.m.

And how can Santa be at all these places at once? Well, if you're asking, then you're thinking too hard.  Just…Christmas magic!
This post was originally published in 2017 and has been updated.