Ah, summer. That means warm temperatures and of course dining
en plein air
. The Summit City boasts several options for outdoor dining. Here are a few of my favorites: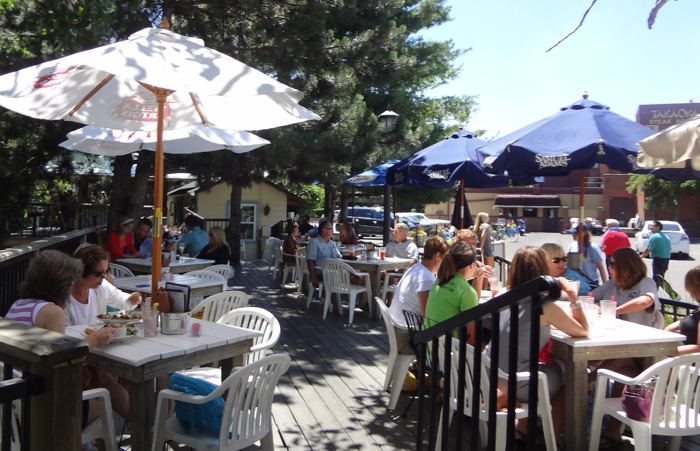 Don Hall's Gas House Deck: The Deck has been synonymous with summer for quite some time. Sit on the bar side if don't mind the rowdiness, or take a seat on the restaurant side, and order an appetizer or a full meal. Either way you can't go wrong! When the river level is right you can catch a ride on their pontoon.
Henry's
: Although limited in seating, Henry's patio is a great way to take in downtown. Order a drink, or a full meal outside.
Granite City Food & Brewery
:  Enjoy a casual dining restaurant with an on-site brewery. Here you will find a broad menu of items that are prepared fresh daily and served in generous portions. Be sure to check out their selection of handcrafted beers.
Club Soda
: Club Soda's upstairs patio is a nice break from the ordinary. Order up one of their classic martinis, or stay for a full meal. Shaken or stirred, you can enjoy a martini on Club Soda's patio. Don Chava's: Enjoy a margarita or two, while chomping down on some chips and salsa. Mi Pueblo:  Depending on the direction you face,  you can give yourself a lovely wooded view while you down margaritas and fajitas.
816 Pint & Slice
& 
Dash-In
: I group them together, as they offer a joint café seating area out front, along Calhoun Street.
J.K. O'Donnell's
: This Irish pub has a small outdoor patio, perfect for watching passersby on Wayne Street. Curly's Village Inn : This bar easily offers one of the prettiest views in town, with a raised deck overlooking the St. Marys River. These are a few of my favorites! What are some of yours?