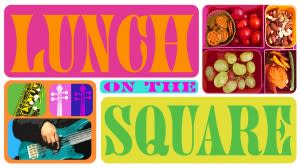 Summer is almost upon us. This means that Downtown Fort Wayne will come alive with music during lunch on Thursdays.  That's right! The summer concert series Lunch on the Square is returning Thursday, June 7 through August 30.  Concerts run from 11:30 am – 1 pm at One Summit Square Courtyard, located at the corner of Calhoun and Wayne Streets.
If you need a break from the office for lunch, or just want to enjoy some great music, Lunch on the Square is just the summer fun you might need.
Every week, you'll find great artists with genres of music ranging from folk to rock, blues to country, and other types in between, there is sure to be something for everyone.  Just take a look at the line up and see for yourself.
June 7, 2012 - Groove Caravan -Funk/Jazz/Blues June 14, 2012 - Mathis Grey – Folk-Rock/ Soul June 21, 2012 - Elle/ The Remnant – Indie Folk June 28, 2012 - Freddy and the Hot Rods – 50's Swing July 5, 2012 - Ty Causey – Rhythm & Blues July 12, 2012 - Sugar Shot – Country Rock July 19, 2012 - Pop N' Fresh – Vintage blue/ Funk July 26, 2012 - Joe Justice – Soft Rock August 2, 2012 - The Beef Manhattans – Sinatra Style Jazz August 9, 2012 - Black Swamp String Band – Bluegrass August 16, 2012 - Cougar Hunter – 80's Glam Rock August 23, 2012 - Scratch N Sniff – Classic Rock August 30, 2012 - The J Taylors – Country Variety
So pack a lunch or stop at one of the many restaurants located downtown to get a to-go box and join us for some good music and fun times!