Fall in love with your downtown - for the first time or all over again.
Do you love downtown Fort Wayne, and want to show your appreciation for the businesses that make our downtown great? Join in on a new effort by Leadership Fort Wayne in conjunction with the Downtown Improvement District called Love, Fort Wayne - "The Love, Fort Wayne City Tour".
So, you may be wondering what exactly Love, Fort Wayne is. Love, Fort Wayne is a grass roots effort to highlight all of the great businesses that make up the fabric of downtown. It is an effort to showcase and celebrate the businesses that make the downtown area thrive in a fun way by inviting people to come down and check it out. It is also a way for businesses to stand out and be noticed while citizens show their pride.
Love, Fort Wayne is a way for the people of Fort Wayne to fall in love with their downtown - whether it's for the first time or all over again. To go along with the Love, Fort Wayne campaign, is a board game that can result in some great prizes! The board game consists of a tour around downtown and making stops in local businesses. Each person will have their own game board which they can take around to local downtown businesses to get stamped.
Once you begin your "tour" of downtown Fort Wayne the real fun starts. Not only will you be lending your support to the places that keep downtown thriving, but you'll also get a healthy dose of competition by playing the board game. Some of the places you can visit on the "Love, Fort Wayne City Tour" are; Downtown Deli, Science Central, the Fort Wayne Ballet, The Central YMCA, LaSalle Bed and Breakfast, and you can event stop by here at Visit Fort Wayne to say hello while on your quest to complete your tour.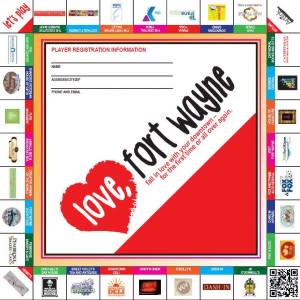 The Love, Fort Wayne City Tour began on June 6 at Germanfest.  There are no restrictions to participate and it's FREE, but you must be a singular player.
After you get your board, you are free to tour Fort Wayne at your leisure for the next two weeks. The tour will end at Greekfest on June 23, and the grand prize winner will be announced at Buskerfest on June 29. Didn't make it down to Germanfest? No problem! Game boards can be downloaded online on the LFW or DID websites. Game boards must be turned in by June 23 and can be turned in at Greekfest, the DID office, the Central YMCA or Leadership Fort Wayne's office. Now that you know about the Love, Fort Wayne City Tour, you may be wondering what you could win and how you qualify for the prizes. Anyone with 10 stops or more will be entered to win the "Grand Prize".
This is the "Ultimate Downtown Experience" package with a one night hotel stay at The Hilton, two tickets to the Fort Wayne Philharmonic and dinner for two at Club Soda. Any player reaching 20 stops will win a Love, Fort Wayne t-shirt. There will also be smaller prizes given, and 2 runner-ups to the "Grand Prize" winner. For more information on the official rules and how to play, visit the Love, Fort Wayne Facebook page, the DID website, or the LFW website. Or, send an email to lovefortwayne@yahoo.com.