The wolves are coming! Or, if you prefer, in Spanish, Los Lobos will be on the prowl at the Foellinger Theatre Summer Concert / Movie Series at 8 p.m. Saturday, September 27, 2014.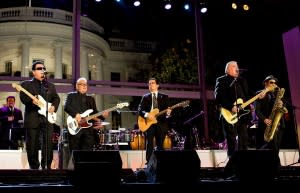 The Chicano band, begun in 1973 in East Los Angeles, CA, has won multiple Grammy Awards and has produced several albums, compilations, DVDs, singles, and featured singles. Their music is a fusion of rock, country, R & B, cowpunk and time-honored Latin and Mexican boleros, norteños and cumbia, with some music being performed bi-lingually. Their band lineup consists of David Hidalgo (vocals, guitar, accordion, fiddle), Louie P
Pérez
 (vocals, guitar, drums, chordophone), Cesar Rosas (vocals, guitar, baja sexto), Conrad Lozano (vocals, bass, guitarrón mexicano
),
Steve Berlin (keyboards, horns), and Enrique Gonzalez (drums, percussion). One of the group's most famous albums was "La Bamba," which in 1987 garnered 2 Platinums in the United States. Their fans may also remember their music from "Desperado" (1995), "The Sopranos: Music from the HBO Original Series" (1999), and a featured single, "Wasted Days and Wasted Nights," performed in 2010 with Rick Trevino. In 2007, they performed "Goin' Home: A Tribute to Fats Domino" and in 2011 they collaborated with other artists for "Use Me" in "The Long Goodbye" with David Bromberg. Prior to playing at the White House in 2009 Los Lobos toured all over globally, opening for Bob Dylan, U2 and Grateful Dead. Some of their record labels include Mammoth, Warner Brothers and 429 Records. Tickets are $23 and $30 at the box office at 260-427-6715. The Foellinger Theatre is located at 3411 Sherman Blvd. in Franke Park near the Children's Zoo.