Art runs deep in Stephanie Burton's life. Her mother has been involved with Fort Wayne's arts community for as long as she can remember, and is a major influence on Burton's painting. Burton may not have attended college to focus on art, but Fisk University provided the perfect inspiration for finding her voice and celebrating her culture as a Black woman, which she shares with us through painting at Love, Lucine.
Join us in discovering more about Fort Wayne's arts community and how it inspires artists, like Burton, to celebrate and bring us together to learn and grow.
Locally Loved Fort Wayne: Stephanie Burton
Q: Tell us how you got started painting.
Five years ago I started to really get into painting! My art background is multifaceted, and painting came along after attending a wine and canvas event. That event sparked my interest in pursuing painting on my own. I started sharing what I was creating on social media, and people reached out asking to buy my artwork, which was something totally new and unexpected. I went with it and it turned into something way bigger than I thought it would. Here I am five years later still talking about it, still painting, and still sharing my artwork with the community and with people from outside of Fort Wayne too.
Q: Where do you find inspiration?
My mother is a big lover of art in all its forms. Growing up, my childhood home, was filled with artwork from Cynthia St. James and Leroy Campbell. Their artwork and style influenced me because of its prominence in my childhood home. With not having a formal art background, I draw inspiration from my environment and things around me, especially my cultural pride that reflects the positive aspects of our culture. I grew up on the southside of town. Being in that area, I draw inspiration from the people in my neighborhood, and the people in my church — the Union Baptist Church, which is the oldest Black Baptist church in Fort Wayne and just celebrated 125 years. And, I draw inspiration from family, and people in my community.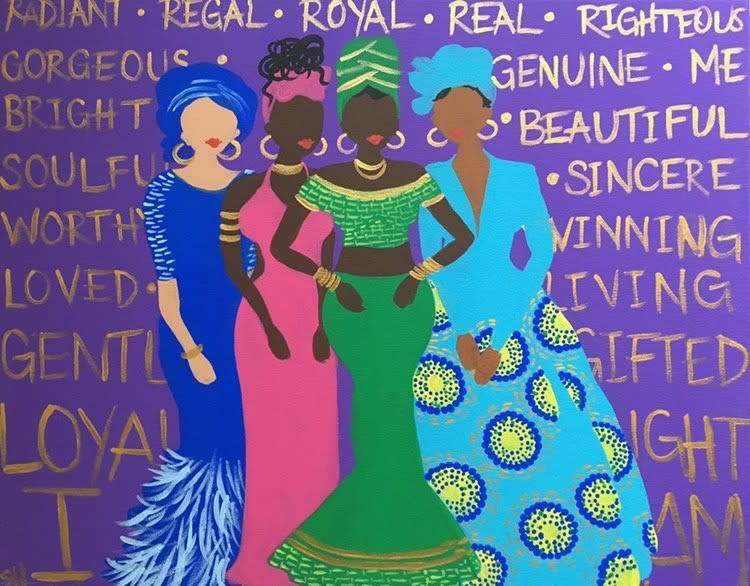 Q: Can you share what you love about Fort Wayne's arts community?
Fort Wayne's arts community is so vibrant, especially in the past 4-5 years with all of the murals and public art popping up around the city, the Fort Wayne Arts Campus, galleries like Artlink and, of course, the Fort Wayne Museum of Art, and events like the Art Crawl. The community is vibrant and there are just so many talented and amazing artists. Fort Wayne is incredibly blessed to have this community here. It brings so much character to our city. I think it also makes our city more attractive, especially for younger generations like myself. It's booming, and I love it!
On a citywide level, Fort Wayne recognizes the importance of art and how it influences us and inspires us. For example, when I was driving home from work, after a crappy day, and saw the "Don't Give Up" message Matt Plett was painting in a mural, that had a profound impact on me. I know its profound impact on me will also do the same for so many other people. That is so important to a community and wonderful that the city is allowing such things to take place.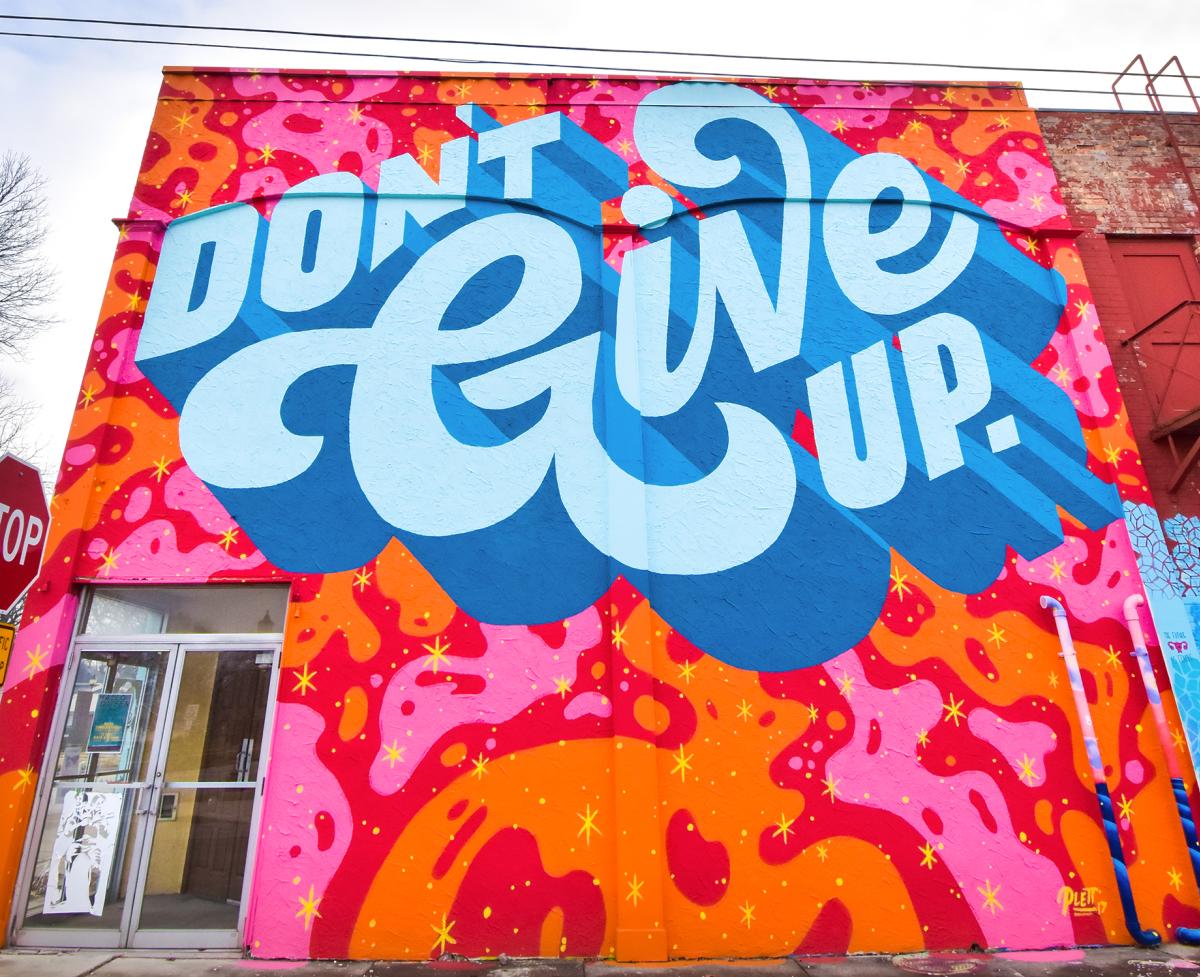 Q: Do you have any dreams for the community or your art?
For the arts community, especially in Fort Wayne, I hope it continues to flourish and grow to attract more people to the city. I also hope that other people, who may not be as open to sharing their art now, are inspired to share their art and dare to do something from their heart and share it with other people.
As far as my art, I hope to continue to share it with people and they receive it with love. Wherever it takes me, I am ready and willing to go!
I really hope that Fort Wayne's diversity continues to expand. We are a very diverse Midwest city, and I hope we continue to move towards a general perspective that everyone has a voice, and deserves to take up space here. We're all in this together and all have something to bring to this city! The arts community really celebrates our diversity. I say "we" because the artists in Fort Wayne are really leaders in the community showing the people the way. We are a very good representation of our diversity in the community, and so with the public art taking place and the arts scene, people can look to us and follow our example.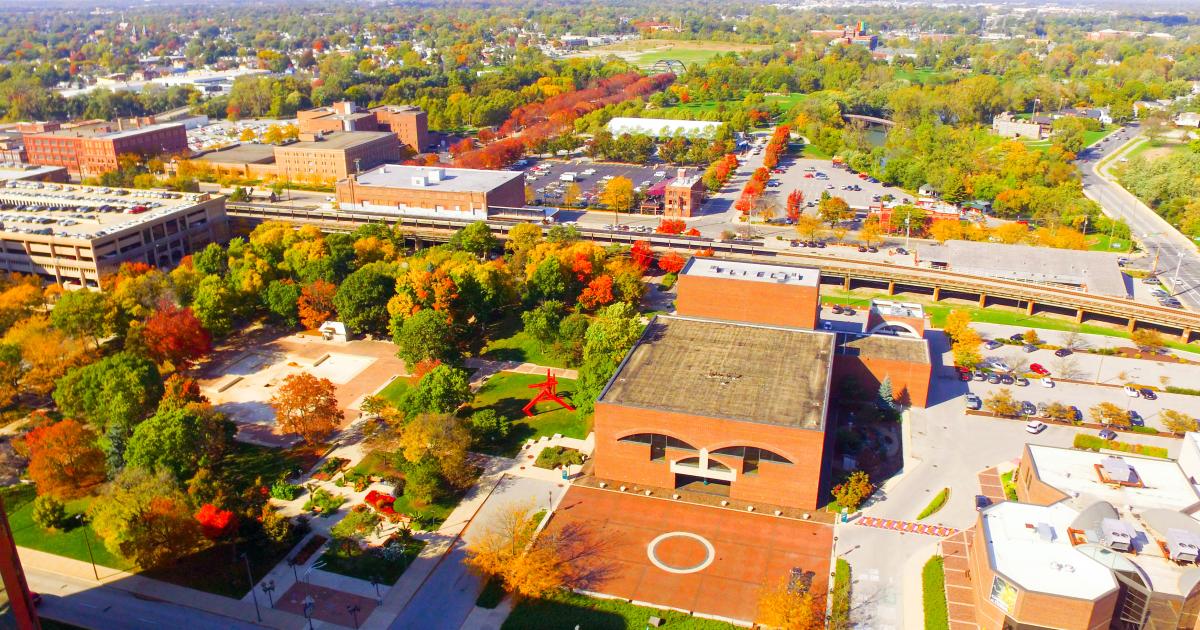 Rapid Round Visitor Recommendations
Burton is most at home on the Southeast side of Fort Wayne, where she grew up. "There is so much character and heart in the area and is often overlooked." Discover some of her visitor recommendations as well as some Fort Wayne artists to keep an eye out for.
Q: Do you have any restaurants you recommend?
The Friendly Fox is one of my favorite local spots for lunch, where my go-to is the Gorgonzola Brisket! It is technically no longer on the menu, but if you ask for it, they still make it. Plus, the blueberry lavender lemonade is amazing. I also really like Lewis Street Grill, a long-time family favorite is The Gas House, and I dig our food trucks!
Current favorites include the Carne Asada Fries from Mercadito, and the catfish from Savannah Soul and Savory & Sweet are both delicious.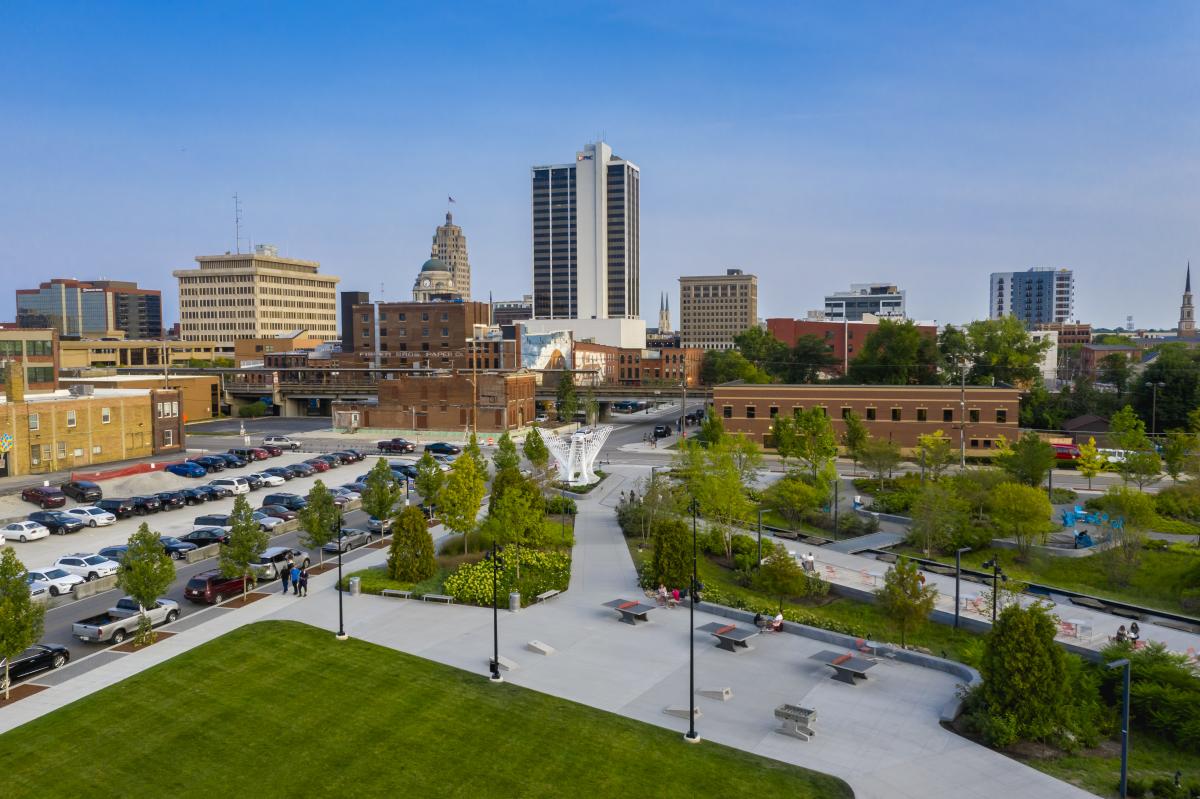 Q: What are your favorite ways to get outdoors in Fort Wayne?
I absolutely love Promenade Park. It's such a wonderful addition to Fort Wayne. I've ridden the party boat, and it was a great time.  My friend, Ashlynn, and I enjoy going to Franke Park to do nature hikes when the weather is nice. My husband is an avid fisherman, so we frequent the lakes in and around the city, including Franke Park, Lake Everett, Hurshtown Reservoir, and Chain-o-Lakes nearby. I also enjoy just walking downtown on summer nights and hanging out at our nearby wineries.
Q: What are some of your can't-miss Fort Wayne events?
Over the past few years, the Summer Community Celebration has been my biggest can't-miss event! I LOVE soulful music, so to spend the day in the park with family and friends, listening to old-school R&B, in the neighborhood I grew up in, (46806!), it doesn't get much better than that! I also really enjoy the Three Rivers Festival, especially the Chalk Walk!
Q: For those wanting an authentic Fort Wayne experience, what do you recommend? 
One of my good friends from college has visited a few times in the past few years. Every time she comes, we have to go and order Shrimp Egg Foo Young from Hainan House, which is another one of my favorite local restaurants. At the time, Music Lover's Lounge was still being held regularly at CS3 [now Welch's Ale House], so we'd go to that as well, and dance all night! Next time she comes, I can't wait to take her to Promenade [Park] and maybe get a group together to do a boat ride.
Q: What makes Fort Wayne special to you?
Fort Wayne is home. I was born here, and have lived here all my life, with the exception of going away for school, in Nashville, TN. It is what I call a "big, little city." We have elements of both, which give us a nice balance. We have so many local gems that give our city character and flare. I see a lot of really neat growth taking place in our city, which makes it special as well.
Q: Do you have a favorite moment you've had in Fort Wayne?
Oh wow! As a life-long Fort Wayner, there are several favorite moments. I think some of the most recent include participating in the Three Rivers Festival Chalk Walk for the first time in 2017 and having the opportunity to work with Matt Plett on his "Breathe" Mural. Something that I miss, which has been a favorite moment, is the Fort Wayne Black Expo and Parade during the summer. It was such a hallmark event in our city, especially for the Black community. It was like a huge family reunion. A big block party! I think the Summer Community Celebrations that are hosted at McMillen Park have brought some of that feeling back to the community. It's picked up where the Black Expo left off. That makes me happy. I attended the Middle Waves Festival in 2018, the year Lizzo headlined! It was the year right before her career really took off, so to think she was in Fort Wayne is really cool!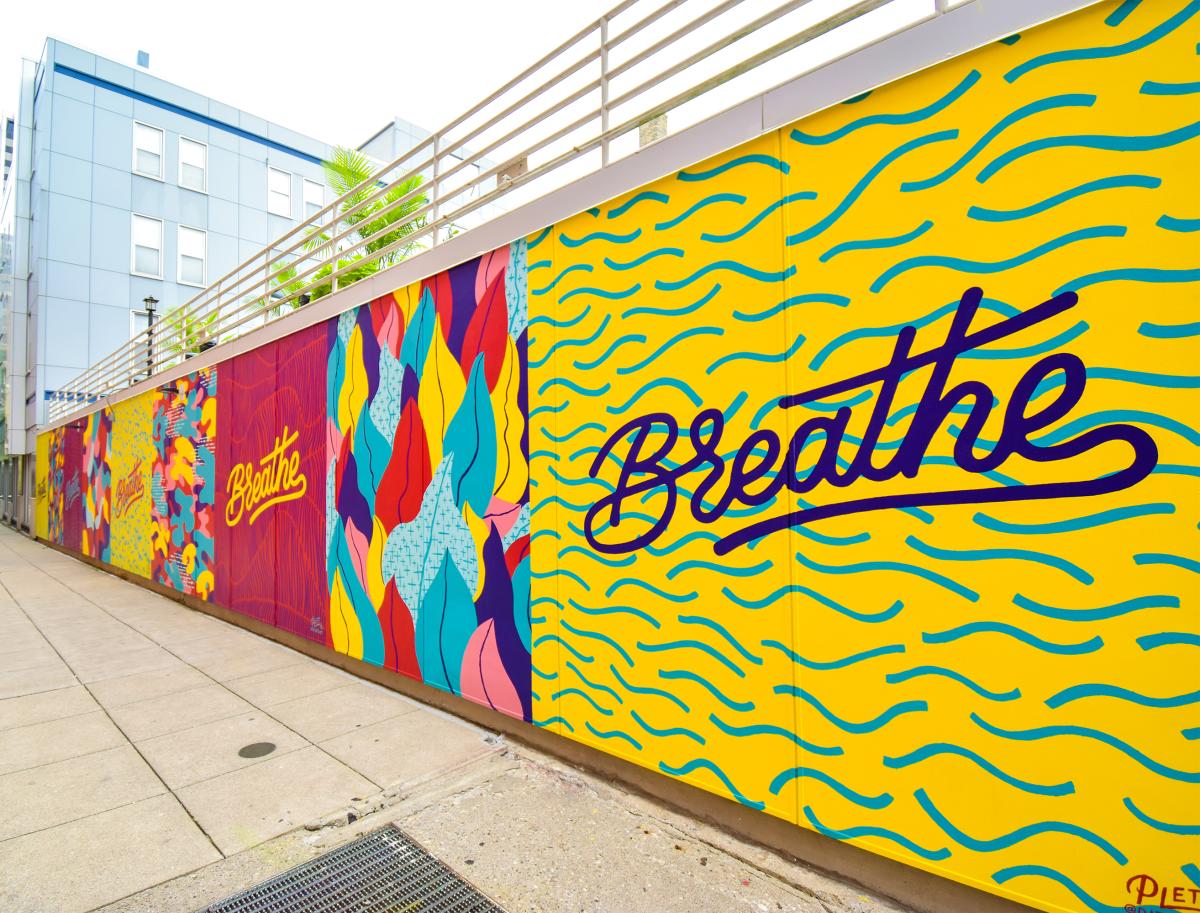 Fort Wayne is a better destination because of the people that call our city home. And, some of Fort Wayne's greatest residents are the artists that help inspire us, show us a different perspective, and help us tell a new story through their art. Discover more local artists and Fort Wayne's arts community on your next getaway to Fort Wayne.