In its 16th year, the
Fort Wayne Summer Music Theater
will be putting on a production of the classic hit, 
Hairspray.
The musical will be held at IPFW's Williams Theater Thursday, July 10 - Saturday, July 12 at 7:30 p.m. and Sunday, July 13 at 2:00 p.m. The story itself is not new, and in fact has had quite the journey of its own. It made its debut in 1998 when John Walter's film production of the same name was released. Later, in 2002 
Hairspray 
became a Broadway musical. The  musical was a smashing hit, winning eight out of its 13 Tony nominations. The 2007 film remake was no different. With a star-studded cast, the film did extremely well at the box-office and became the sixth highest grossing musical after 
Chicago and Grease.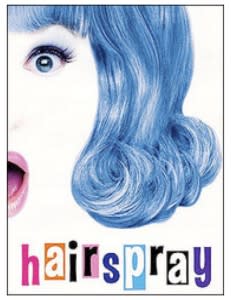 Set in 1962 Baltimore,
Hairspray 
tells the story of Tracy Turnblad, a slightly overweight teenager obssessed with the Corny Collins show. Turnblad and her longtime best friend, Penny Pingleton, race home each night to watch the Corny Collins show and are nearly delirious when they discover a spot has opened on the show and auditions will be held. With the help of her friend Seaweed, Tracy manages to make it on the show, though it isn't a walk in the park. Tensions run high as places on the show suddenly don't seem so set in stone, and it isn't long before Tracy makes some enemies. The longer she is on the show, the more Tracy become disillusioned with the way things are running. She decides it's up to her to make a big change.
Hairspray 
tackles the racial tensions of 1960s America is a new and exciting way. It's got love, suspense, drama, and a great soundtrack. Full of wild characters, this musical will have you in stitches. The Fort Wayne Summer Music Theater's production will feature students of all ages from all over the city. Founder Kirby Volz will be directing the production. This summer theater program is designed to challenge interested actors and push them to achieve even more. With a talented cast and crew, this year's production is sure to be a hit! Don't miss your chance to see this classic story in living color on stage. Admission is only $15 for adults and $12 for students. Tickets are on sale now, so snag them while you can!