2017 Update: Toscani is Permanently Closed.
Toscani Pizzeria provides casual dining with top-notch local taste. Enjoy most entrees here for under $10 each at this authentic Italian restaurant. This pizzeria is a favorite stop for locals -- so don't miss it during your next visit to Fort Wayne.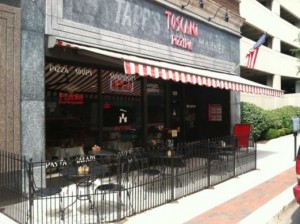 Toscani Pizzeria is open for both lunch and dinner and offers not only homemade pizza pies, but also lush salads, hearty soup, pastas, sandwiches and more! The garlic bread sticks here are a must have along with their homemade dressings. During the warmer months you can enjoy dining outdoors here as well. This eatery is perfect for a casual gathering with family or friends and a convenient stop between your downtown sight-seeing. During the lunch hour you may even see the business crowd gathering for lunch here. Parking is best found along local streets, but be sure to have some change in hand for the meter. Check out the daily specials here on the chalkboard to your right as you walk in for the best deal. For the evening crowd, enjoy a full range of drinks as well. If you have a sweet tooth, Toscani Pizzeria also offers homemade desserts. Just ask a server for their daily menu. Toscani Pizzeria is conveniently located downtown at 120 W. Wayne St. in Fort Wayne. Call 260.423.6706 for more information. Reservations are welcome. Hours of operation are Monday through Thursdays 11 a.m. to 9 p.m., Friday and Saturday 11 a.m. to 10 p.m. and Sunday 12 to 9 p.m.