Fort Wayne is a community that loves to give back, and in big ways! When you support these local businesses, not only do you support a hard-working neighbor, but you fund projects that help others all around the world find better, brighter futures. 
Shopping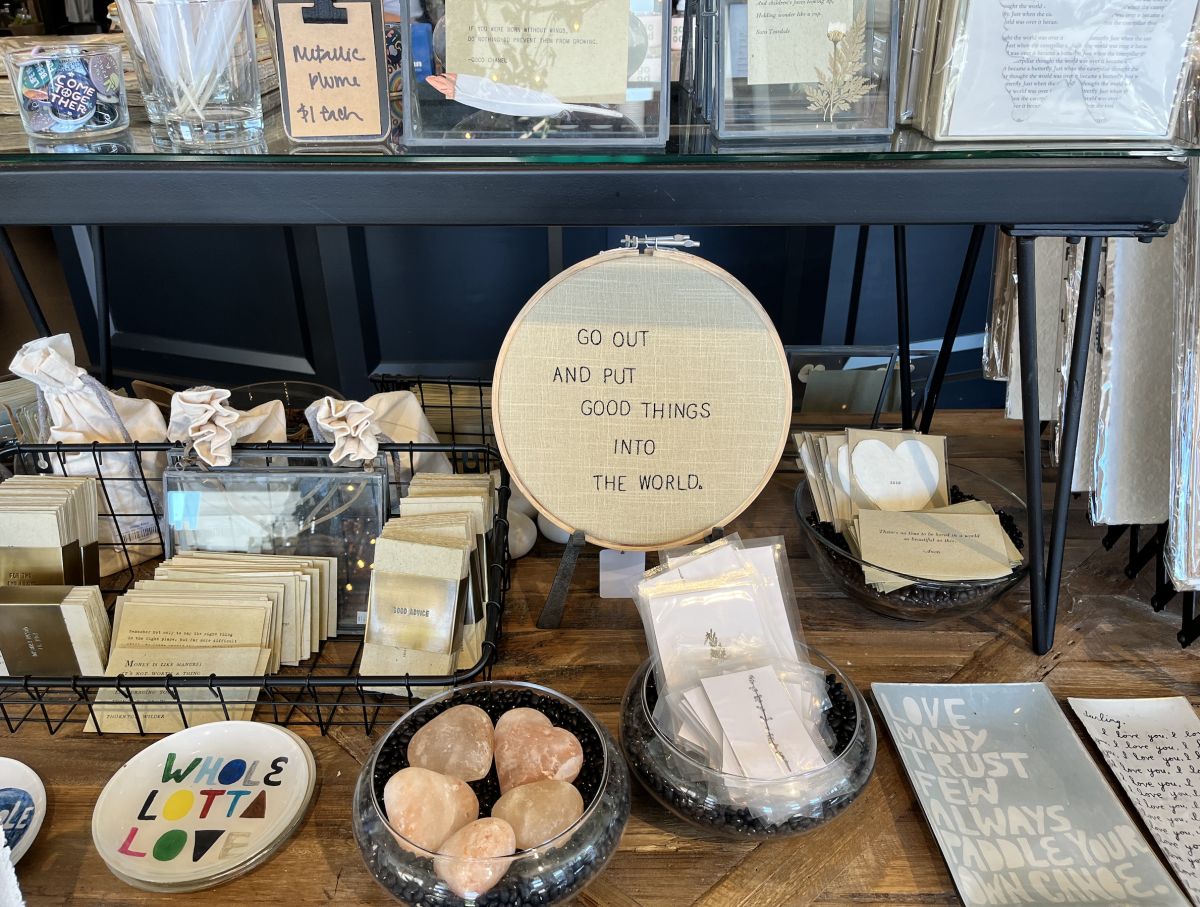 GoodMRKT 
"We are a community of good people creating great products that benefit exceptional causes." When you shop GoodMRKT at Jefferson Pointe, you're contributing to change at home, and in communities across the globe. Whether you're passionate about women's empowerment, sustainability and environmental change, or feeding those in need, there is a product for every purpose. Shop products from MudLove, Able, 4Ocean, Crave Candle Co., and more!
Shop until you drop? GoodMRKT's cafe has locally sourced Utopian Coffee and rotating seasonal beverages to refuel and re-energize you for the day ahead! 
4130 West Jefferson Blvd, Fort Wayne, IN 46804
Located in the heart of downtown, Creative Women of the World features an assortment of handmade, fair-trade, and mission-driven products. However, their shop is just one small way they empower women around the world. CWOW goes into villages and gives local artisans the specific skills to create their own businesses and raise themselves out of poverty and disaster. So far, 200 artisans have participated in the training in eleven different countries. Sales and donations help provide additional training to women who want to change their future for themselves and their community.
MORE: An Interview with Lorelei Verlee — Founder of Creative Women of the World!
125 West Wayne Street, Fort Wayne, IN 46802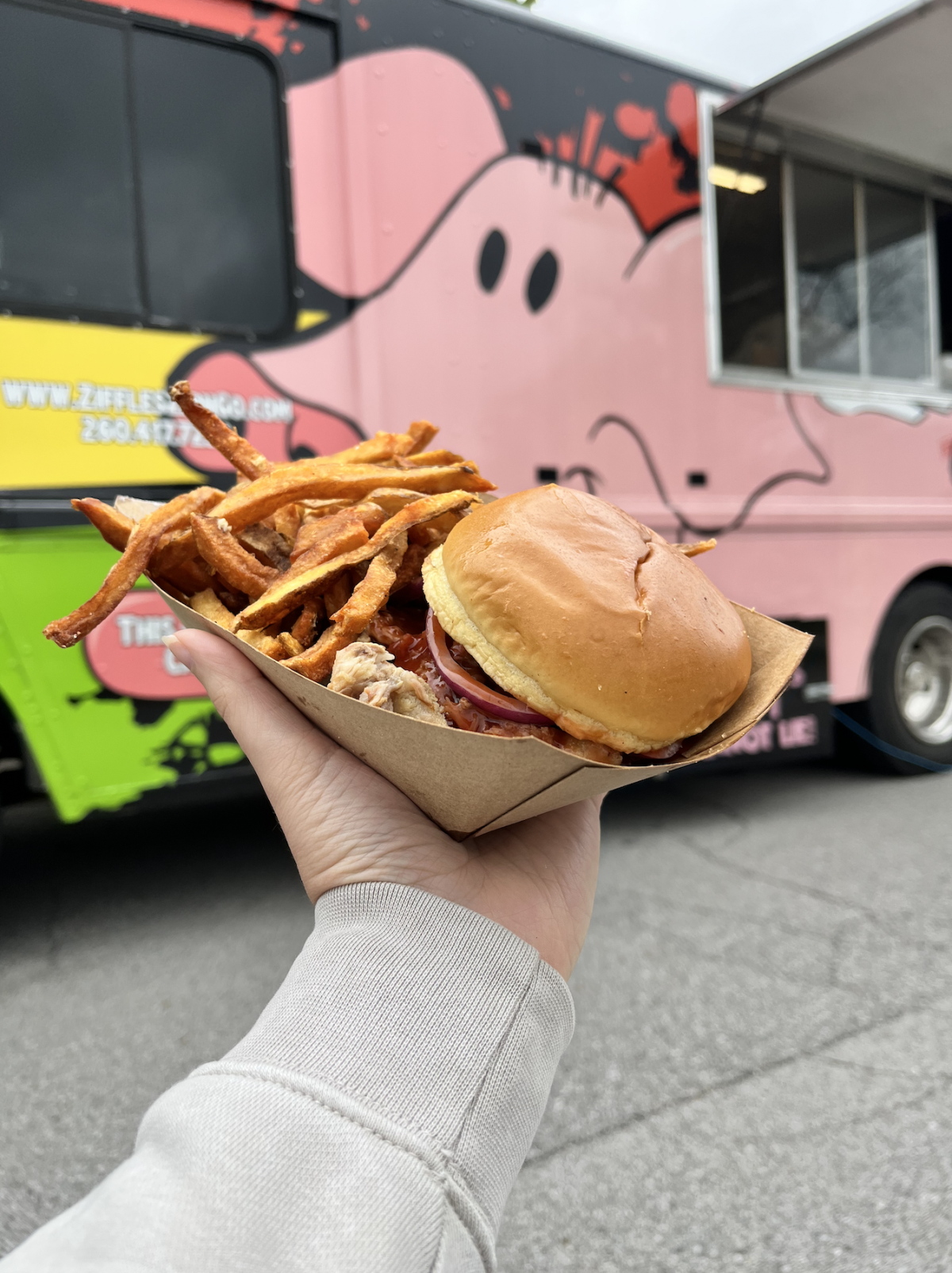 Featured: Ziffles Zip N' Go Food Truck and the O.G Pulled Pork Sandwich and fries 
YLNI Farmer's Market 
Young Leaders of Northeast Indiana (YLNI) is a non-profit that helps connect young people with community mentors to aid in the development of future change-makers. The farmer's market is just one way that YLNI strives to bring vibrant attractions to the city.
Find these mission-driven vendors at the Saturday Market:
Windrose Urban Farm - "Windrose Learning is a Fort Wayne–based nonprofit organization that develops innovative programs offering career training and mentorship to disadvantaged young adults in our community." Stop by for a refreshing glass of lemonade or some fresh guacamole! 
Second Chance Animal Collars - Each unique collar or leash is handmade with recycled materials, and a percentage of each sale goes to a local humane shelter.
Baby Got S'mac, One Love Food Truck, Ziffles Zip N' Go -  These yummy food trucks are owned by a talented and generous Chef who also operates Prime Boxing, the only USA Boxing-affiliated gym here in Fort Wayne. Not only does her food pack a delicious punch, but Prime Boxing provides a free youth club that includes two hours of tutoring and boxing instruction per week, along with a free meal for the families!
Out of a Jam - There is so much to love about this truck: the fast and friendly service, the talent of the young chefs aboard, and the hope they provide for struggling teens. 
Shop the YLNI Farmer's Market on Saturdays:
Outdoor Market (May - October) — 302 E Berry Street, Fort Wayne, IN 46802
Indoor Market (November - April) — 1501 E Berry Steet, Fort Wayne, IN 46803
Dining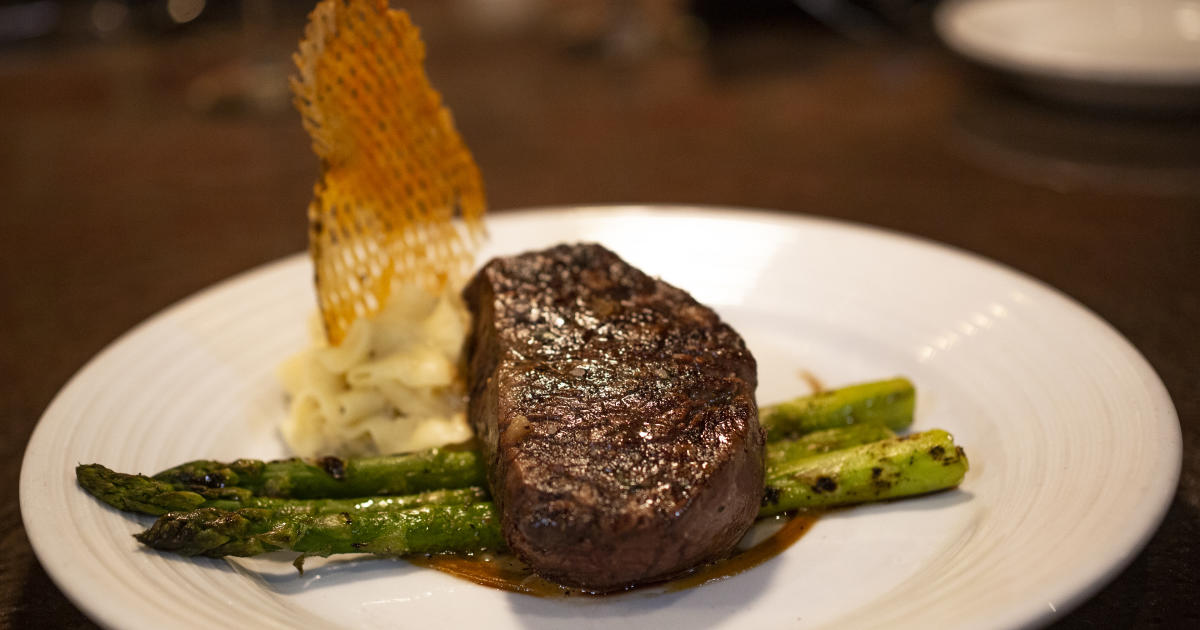 Featured: Steak with garlic whipped mashed potatoes and asparagus from BakerStreet Steakhouse 
Owner James Khan's mission is simple: "to show love, that you matter, and that you're seen." Whether you dine in at one of the three distinct restaurants, or partake in a community thanksgiving dinner at BakerStreet, you are welcomed with open arms.
ObiCai and their team partner with some of the community's most vulnerable populations such as The Carriage House, Big Brothers Big Sisters, The Rescue Mission, and more. They believe in supporting individuals and families facing extenuating circumstances by responding graciously and generously to numerous donation requests each month, and by providing transitional employment to those who have experienced some of life's greatest hardships. In the coming months, they also hope to work with Easterseals Arc to train and employ adults with disabilities in their daily operations. 
Each location gives an unparalleled dining experience while maintaining a high quality of service and exceptional taste. Wine and dine at BakerStreet Steakhouse, and make sure to save room for the Flamin' Donuts or warm Carrot Cake a la mode. Head downtown to The Hoppy Gnome for delicious tacos, or book a brew session with a GnomeTown brewmaster and create your own beer to take home! Last but not least, explore Latin cuisine for breakfast, lunch or dinner at Proximo. 
The Hoppy Gnome - 203 East Berry Street, Fort Wayne, IN 46802
BakerStreet Steakhouse - 4820 North Clinton Street, Fort Wayne, IN 46825
Proximo - 898 South Harrison Street, Fort Wayne, IN 46802
The crew at Mancino's serves up pizza and grinders on their homemade, fresh-baked bread, along with salads, wraps, and pasta. Their generosity is evident in their portion sizes and their commitment to serving the community. During the pandemic, Mancino's donated hundreds of boxed meals to frontline workers at local hospitals. They also support area schools, sharing teacher wishlists to help pay for much-needed supplies, and offering discounts to teachers and school staff. Start with the garlic cheese bread, then opt for the create your own calzone or the massive Italian Grinder! 
1025 Coliseum Blvd West, Fort Wayne, IN 46808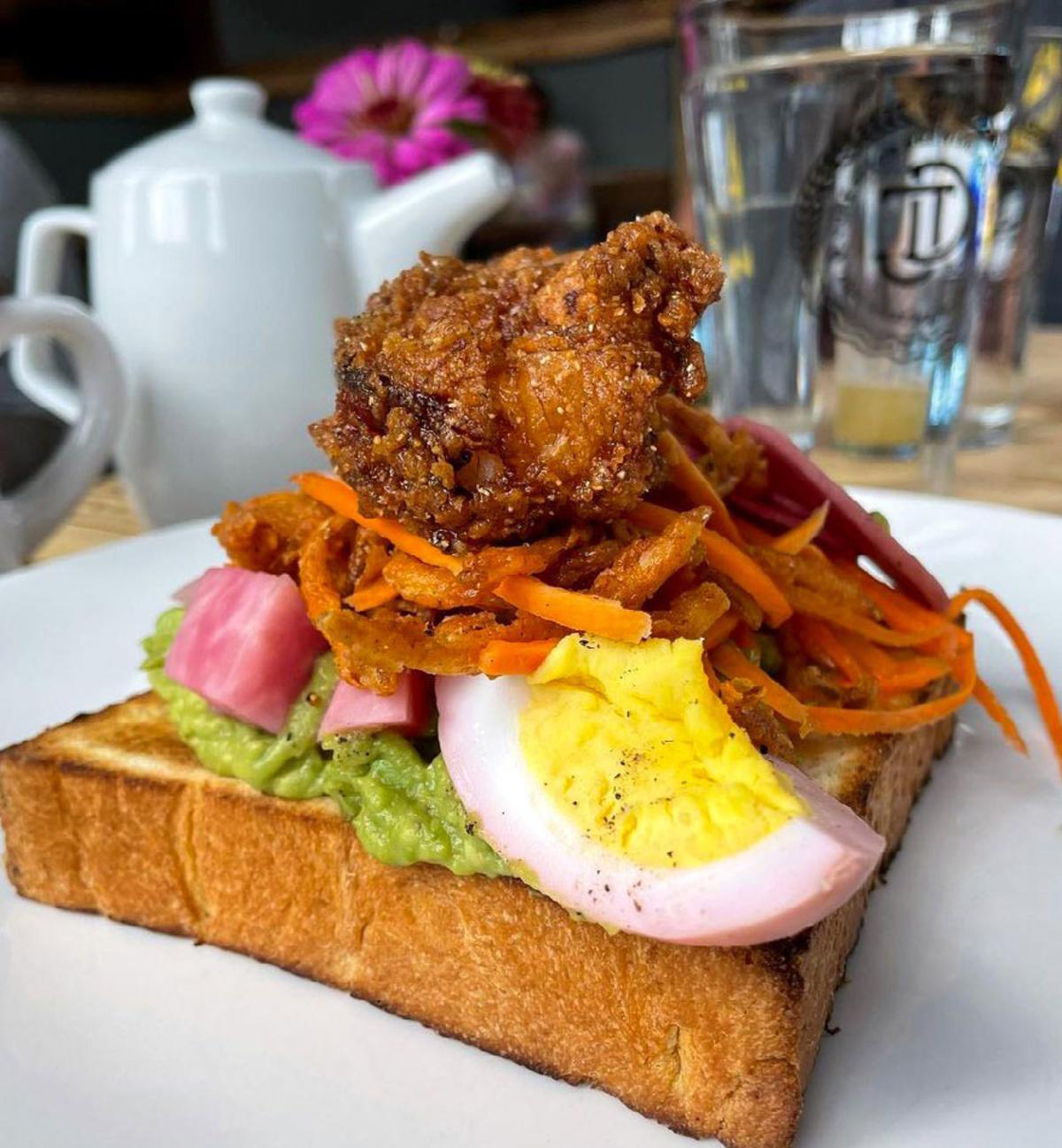 Featured: Avocado Toast from Junk Ditch Brewing Company / CREDIT: @ilovefooda2 on Instagram
"When we founded the Affine Food Truck in 2012, we wanted to invest in three things: our city, our craft, and our customers." Junk Ditch has expanded rapidly since then, but has never lost sight of their mission. In partnership with the Human Agriculture Co-Operative, Junk Ditch and GK Baked Goods have handed out thousands of hot meals fresh from their kitchen to local residents. 
Visit Junk Ditch for brunch, lunch or dinner to experience some of the best food and brews of Fort Wayne. Make sure to save room for a GK pastry or ice cream! 
1825 West Main Street, Fort Wayne, IN 46808
Family-owned and operated Lucille's BBQ brings fresh smoked meat to Fort Wayne, and to those in need across America. When disaster arises, Owner Chris Wilson and his sons partner with OBR - Operation BBQ Relief to feed displaced families and first responders. Their efforts have helped feed over nine million meals to those affected by natural disasters. 
Stop in at either of their locations to try a slab of ribs with one of their signature sauces, or some pulled pork nachos. Be sure to ask where their team is headed to next! 
7225 Maplecrest Road, Fort Wayne, IN 46835
9011 Lima Road, Fort Wayne, IN 46818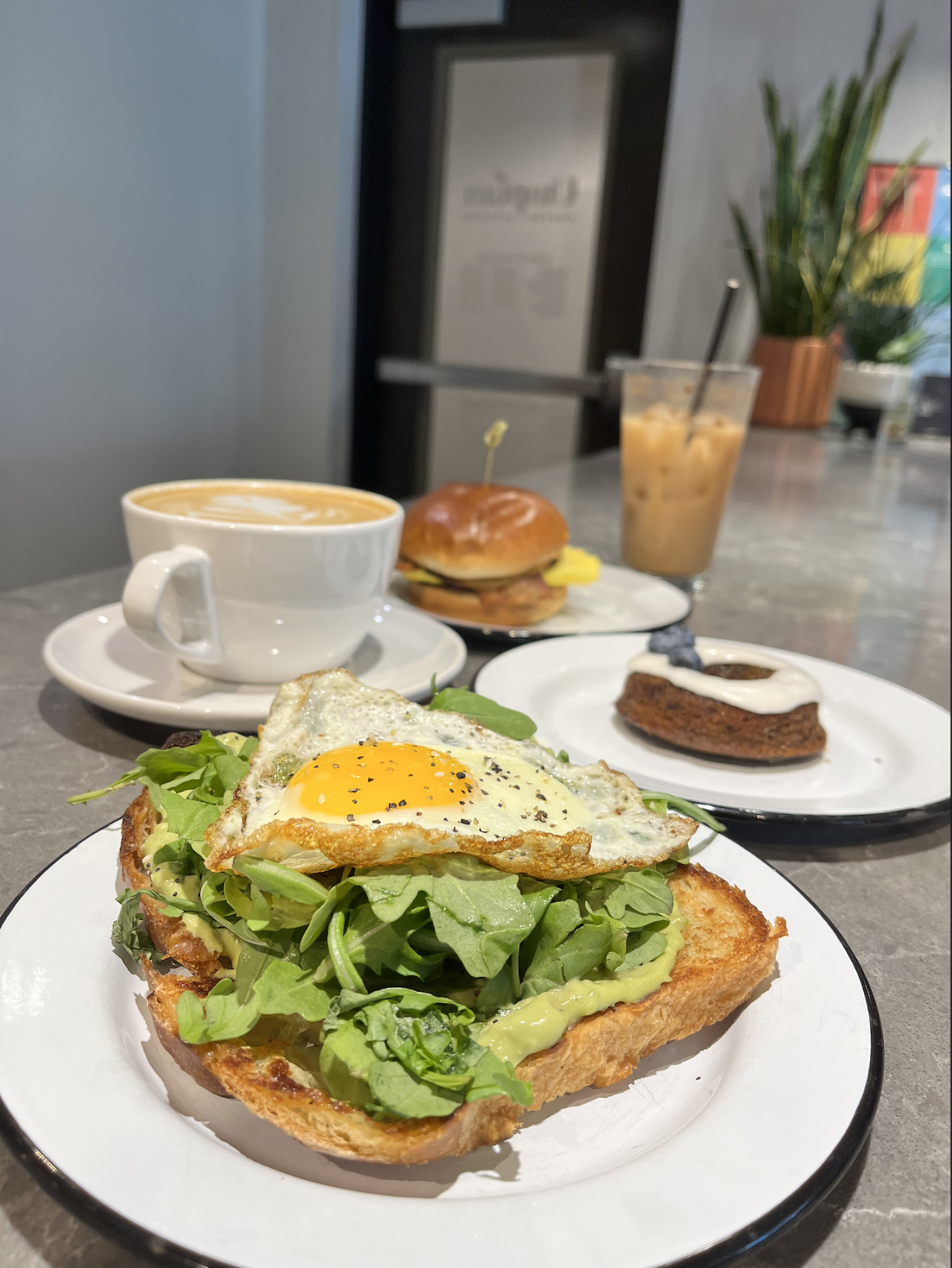 Featured: Avocado Toast, Vanilla Latte, Blueberry Cake Donut, and Bacon Breakfast Sandwich from Utopian Coffee + Kitchen
Utopian is a coffee company that puts people first. Their mission, "Better Coffee for a Better World" is no small feat; however, in their 10 years as a company, they have managed to transform the lives of coffee farmers across the globe. Paying a fair wage, investing in their farmers, and telling their stories of hardship and perseverance are just a few ways that Utopian has shifted the way the community thinks about coffee. Visit Utopian on The Landing to find out more and try their coffee (and a breakfast sandwich) for yourself. 
Forget to grab a bag of coffee on your way out? You can order their beans online and have them shipped to your door! 
118 W Columbia Street, Fort Wayne, IN 46802
This unique health food cafe serves smoothies, sandwiches and salads made by individuals with Down Syndrome who have graduated from GiGi University. Every GiGi University graduate is involved in the business including customer service, food preparation, and sales. Participation in the shop gives individuals the opportunity for independence, self-confidence, and acceptance. You can also find their grab-and-go options at any of the nine All-American gas stations in town! Check out GiGi's Genesis Health Bar.
6081 North Clinton Street, Fort Wayne, IN 46825
Things To Do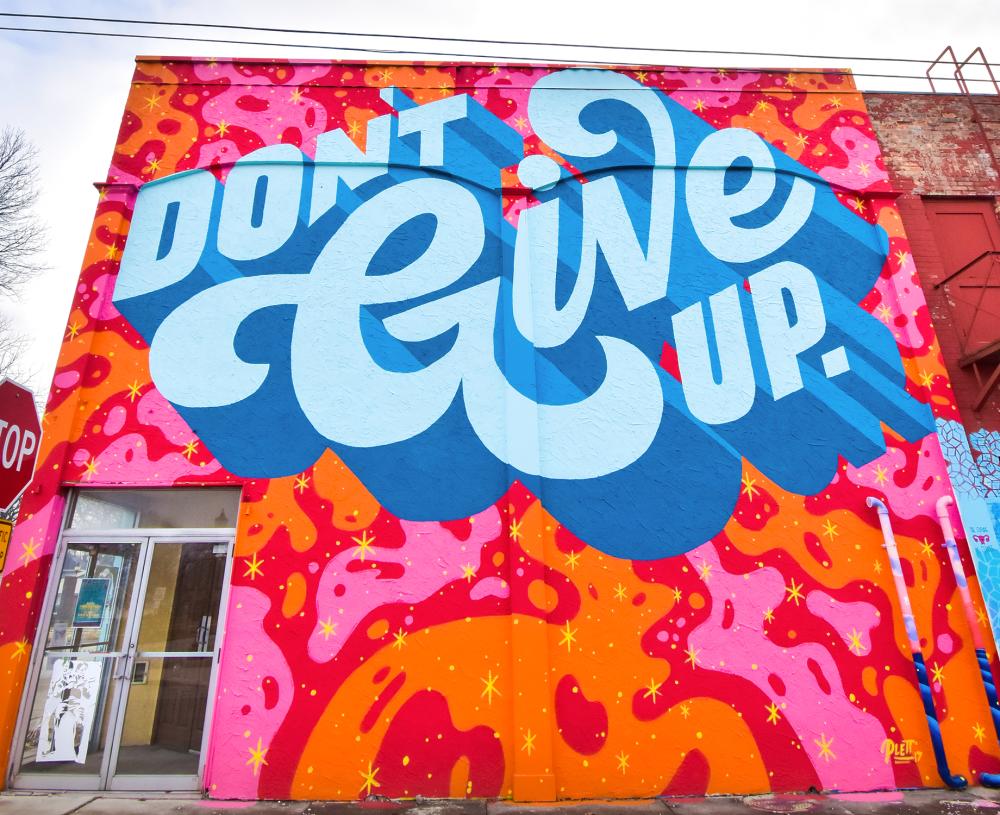 Featured: "Don't Give Up" mural from artist Matt Plett, located on the exterior of Wunderkammer Company
Fort Wayne's first gay bar is a source of entertainment, community, and large-scale impact. Rotating drag shows, trivia, and karaoke ensure that there is never a lackluster evening. In the 33 years since opening, After Dark has partnered with the Positive Resource Connection, offering donations to help provide education and resources. 
All are welcome to partake in the best late-night drinks and dance party in the Fort! 
112 East Masterson Avenue, Fort Wayne, IN 46803
"Wunderkammer Company carefully curates exhibitions, educational programs, performances and special events that push boundaries, defy convention, spur conversations — and yes, sometimes court controversy." A staple of the Fairfield Corridor, Wunderkammer is dedicated to revitalizing the community and offering opportunities for residents to become engaged in the process. Neighbors and visitors are invited to participate in the SoundWalk, a history of the neighborhood, take part in education and zero landfill days, and experience cultural expression through art. 
Wunderkammer is open Thursdays from 1:00-6:00pm, or by appointment. 
3402 Fairfield Avenue, Fort Wayne, Indiana 46807