Lily's Take on a Walk in Riverside Park
Unlike my person, who loves the water and gets excited to flounder about in the pool, I am not normally a fan of anything wet. Maybe that is one reason that I like Riverside Park in Leo-Cedarville.
Neatly planned and manicured like an urban park with the benefits of surrounding rural beauty, there is water—but so much more to enjoy!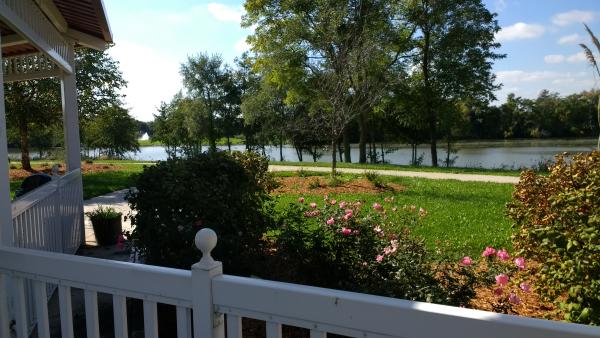 What You'll Find at Riverside Park
Whether you have two legs or four, like me, this park has a lot to offer in the 9-acre green space.
When I put my two-legged one on the other end of her leash, we like to do laps around the ½-mile, fully-paved trail. This is fun any time of year.
Though some call her crazy, it can be especially nice to walk in the park when it is wet or crummy weather because the sidewalks are super.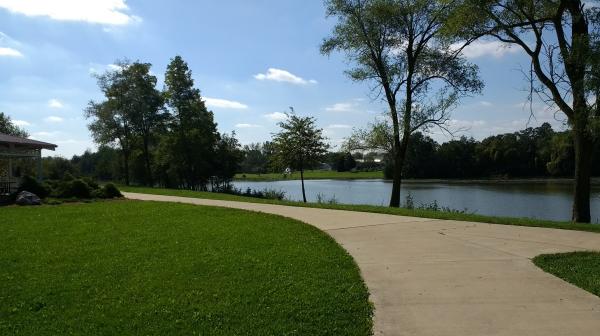 We wander the nature loop to enjoy the flowers and open, grassy spaces.
A sand volleyball court, splash pad (where my four-legged friends and I are not allowed), playground, play creek, pond, and horseshoe pits are all available for free, public use.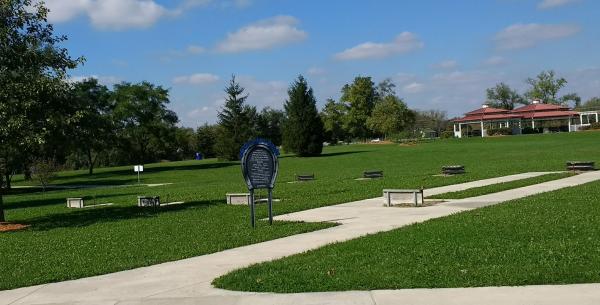 Lovely pavilions also sit on the grounds. Rentable, I could throw a birthday party here. They probably don't let dogs, like me, reserve the pavilions because we have seven times more birthdays than humans; we would take up all the slots to reserve! Ha!
Learn more information on how to reserve one of them yourself.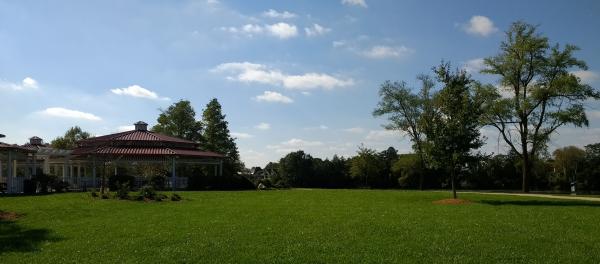 History of Riverside Park
Relatively new to the community that was platted in 1838 (that is a whole lot of dog years ago), the park began with gusto in 2003 and got its latest round of additions in 2014.
Everything feels freshly maintained, but still homey and familiar. It could sit in a much larger city, but includes things like a hitching post to welcome the rural community.
The City of Leo-Cedarville has tried hard to listen to what the community wants. Learn more about out the plans for the park neighborhood.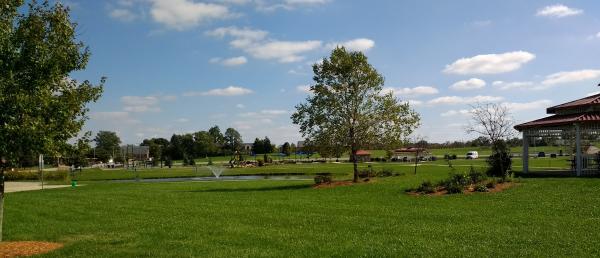 A Little History in the Making at Riverside Park
There is a lot going on in the park, but we have never found it too busy to enjoy. My person has gone to events like the Freedom Festival, celebrating the Fourth of July. Art at the Riverside, a juried art fair always attracts food trucks with treats that tempt she-who-does-my-typing.
Speaking of food, my typist is a pescatarian (vegetarian, plus fish). The fishing competition she saw advertised caused her to ban herself from the park; she would be overly tempted by the fresh catches!
Keep an eye on their Facebook page for updates. You will probably find your own temptations for attendance, too!