Long before dancing shows made their way on to media channels, Fort Wayne's rich and famous individuals had their own stage. The glitzy and glamorous would gather at the home of John Bass's home the Brookside Mansion and head up to ballroom!
[[endteaser]]
Located on the top floor, the ballroom is a favorite among the University's faculty, staff, students, and alumni. As a dreamy college student, the space was a place to escape from my piles of coursework. Then the institution's library, I would often daydream Fort Wayne's glory days - I wondered who were the famous and wealthy individuals who danced in the third-story-ballroom. Today, the Brookside Mansion has been restored and will be open to the public for a special holiday event.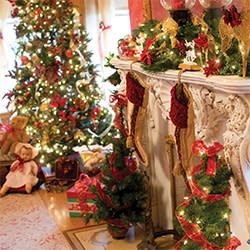 The University of Saint Francis will host the Christmas in the Castle as a part of many other holiday festivities. Visitors will be able to tour The Brookside Mansion, formerly the Bass Mansion, and see the extraordinary craftsmanship and artistic touches. All three floors, including maid's quarters, the kitchen, the ballroom and the billiards room, will be decorated for Christmas by local florists and designers. The Mansion also has an elevator, therefore those with limited mobility will be able to participate.
The event dates and times are:
Friday, Dec. 4 – 4-6 p.m.
Saturday, Dec. 5 – Noon-5 p.m.
Sunday, Dec. 6 – Noon-5 p.m.
Monday, Dec. 7 – 4-6 p.m.
Wednesday, Dec. 9 – Noon-5 p.m. – Senior Day in the Castle ($4 for senior citizens)
Admission is $6 per person, with a $25 maximum for a family of six. Tickets must be purchased in the North Campus lobby on Spring Street, directly across from the Mansion, on event days. Free parking and shuttles for those with mobility issues are available at the North Campus.
Visit this sweet treasure, and see the place where the rich and famous used to dance in Fort Wayne.<